Bigger is better. Well, okay, that's not always true… but this time, it is.
At 24 feet, the Go Fan Yourself Z-Tech commercial fan is among the largest in the industry. That helps it do its job a lot more effectively. The other part? A slight change in pitch and unique stepped blades create significantly more thrust and air movement. The result is an additional 30 percent of coverage, which results in a more comfortable space, and more comfortable employees.
---
Benefits of the Z-Tech Fan include:
---
Moves air at 425,000 CFM (cubic feet per min), increasing coverage area up to 30% compared to other HVLS fans
Patent-pending Z-Tech™ blade design with 20º plus pitch and symmetrical Z-Tech™ blade design allows for true reversibility for year-round operation with no wind chill
Up to 40K sq. ft destratification coverage; reduces energy heating costs
Open-platform ABB™ controller can streamline building management systems, largest heat sink in the industry
Designer series offers custom color combinations and designs, allowing you to customize Z-Tech™ fan to best compliment your facility
Lifetime warranty: blades, hub and mounting system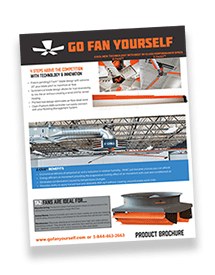 Life can be a whirlwind, but finding the right industrial fan doesn't have to be. Learn how you can efficiently control the climate of your manufacturing spaces by downloading the Z-Tech Fan cut sheet today.
---
---