Use Wire Cages for Safety's Sake
When it comes to protecting equipment, inventory, and sensitive information, as well as protecting workers from injury, wire partitions and security cages get the job done. Wire cages and partitions are free-standing enclosures that are created with modular wire panels and enhance areas where worker safety and material security are critical. Overhead security carts and cages use lift mounts in the ceiling. The touch of a button brings the cage down to the floor or lifts it back up to the ceiling, where it is protected and out of the way. These storage and security measures are ideal for many industries including industrial and commercial business, public safety, healthcare, athletics, retail and military. Applications for wire cages include machine and robotic guarding, tool cribs, drug and evidence storage, supply and maintenance equipment cages and general storage areas. Applications for overhead security carts and cages include the storage of electronics, uniforms, gear, equipment and other expensive inventory that requires safe keeping.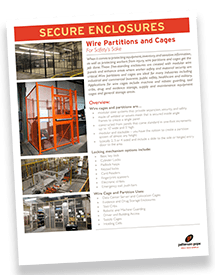 You want equipment, inventory, evidence and/or information protection and storage without a cage fight, right? Learn more about free-standing wire partitions and cages in this brochure about the wide ranging uses of these modular steel mesh storage solutions.
---
---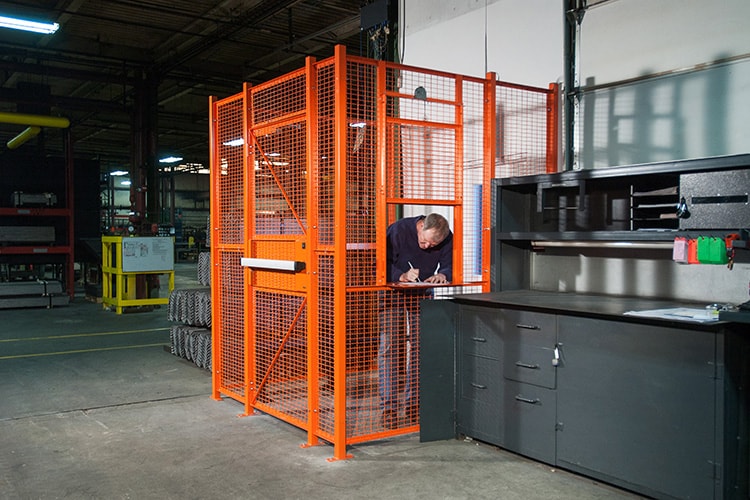 ---
Wire cages and partitions are…
modular steel systems that provide separation, security, and safety
made of welded or woven mesh that is secured inside angle frames to create a single panel
constructed from panels that come standard in one-foot increments up to 10' wide and 5' high
modular and stackable – you have the option to create a partition system of almost any height
typically 2, 3 or 4 sided and include a slide to the side or hinged entry door to the area
---
Locking mechanism options include:
Basic key lock
Cylinder Locks
Padlock hasps
Keypad locks
Card Readers
Fingerprint scanners
Electronic strikes
Emergency exit push bars
---
Wire Cage and Partition Uses:
Data Center Server and Colocation Cages
Evidence and Drug Storage Enclosures
Tool Cribs
Robotic and Machine Guarding
Driver and Building Access
Supply Cages
Holding Cells
---
Overhead Security Carts and Cages provide:
Security for expensive inventory
Space savings
Ease of counting and controlling inventory
Push button operation
Lockable doors and adjustable shelves
Potential tax breaks
An alternative to an elaborate security system