Mezzanines Pre-engineered Floor Decking Systems Can Take Your Space to the Next Level
If you are looking for a way to double your floor space without relocation or enduring the hassle and expense of building expansion, then a structural steel mezzanine may be just the solution. Mezzanines are engineered to fit your application and space, and the modular design allows for easy re-configurations as your needs change. For a variety of environments - from manufacturing and distribution to retail and entertainment - pre-engineered floor decking systems can expand the possibilities of what can be done with unused vertical space.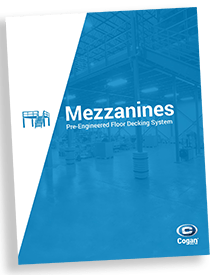 What goes up must come down, unless you are talking about mezzanines. Because with a mezzanine you can actually put something up and not have to get it back down until you need it. Check out the Mezzanine / Pre-Engineered Decking System brochure to find out how to make the best use of your space, we promise you won't be able to put it down.
---
---