Low-Profile Mobile Shelving System
Eclipse, powered mobile shelving system is easy to configure, simple to use and exceptionally safe.
In an ideal world, you own the perfect space, with room for all of your goods, materials and inventory. But in reality, you may be waiting on funding for a renovation or new building. Or perhaps you're leasing property, and you need a cost-effective storage solution that won't disturb a site you don't own. Maybe you've just accepted defeat and are letting the clutter take over your storage space. No matter the scenario, the Wheelhouse low-profile mobile shelving system is here to help.
Easy to reconfigure, expand and relocate, Spacesaver Wheelhouse® low-profile mobile shelving systems combine strength and adaptability in an affordable, low-profile modular system that makes the most of every inch of space. Paired with an XpressDek modular floor system that provides the same level of strength and flexibility of a traditional anchored rail system with a low-install impact in cost and site disturbance, these movable and affordable shelving systems can fit your needs now and in the future.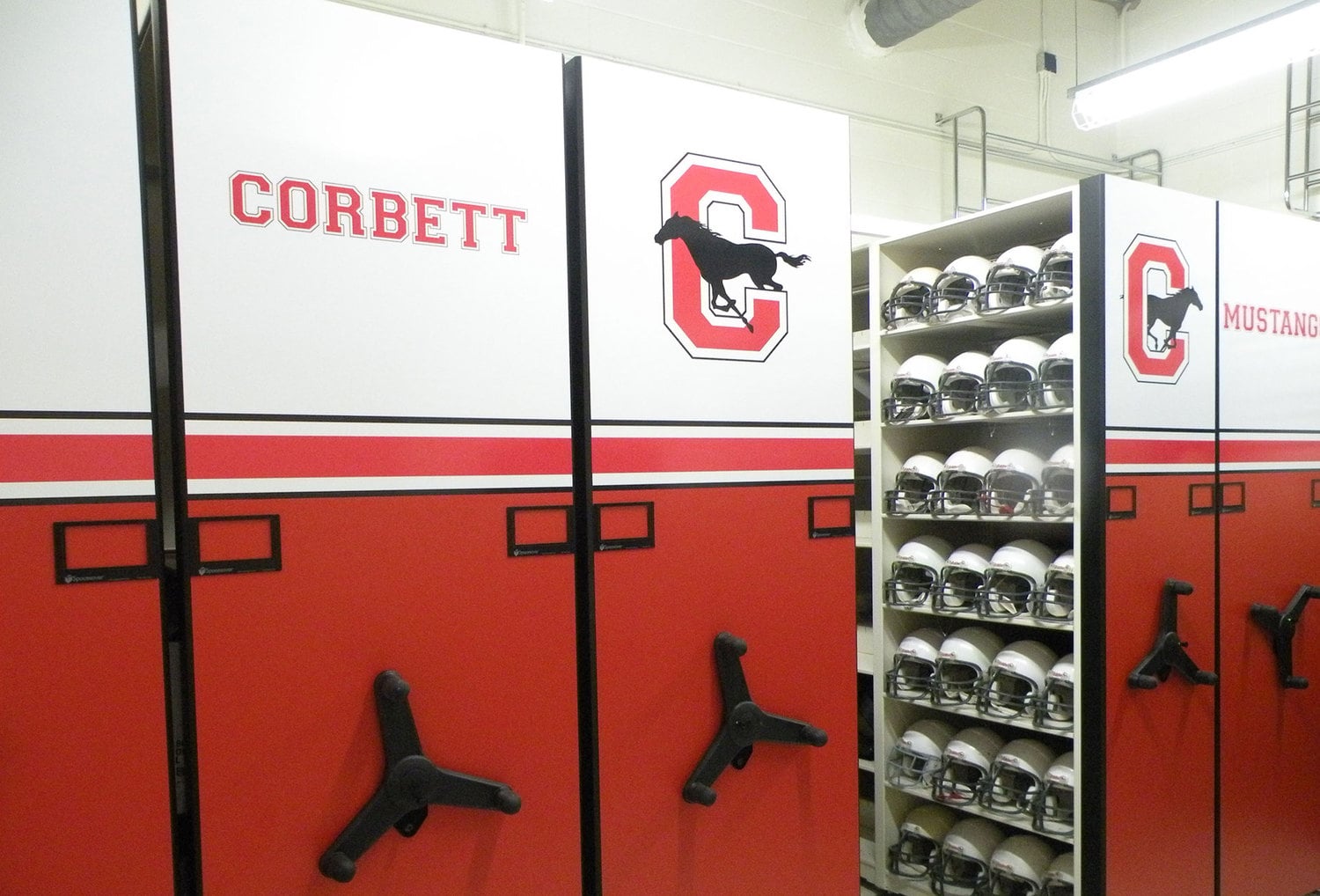 Overview
Wheelhouse's sustainable design and durability in these affordable shelving systems can help you take control of your storage space.
Efficient design uses less steel and is manufactured from a high percentage of recycled material and low-emitting finishes

Choose from Powered, Mechanical Assist, or Manual operation to easily open aisles

Comes with a full range of standard and optional automatic safety features, including safety sweeps, brakes, and anti-tip rails

Multiple floor rail options, including option to pair with XpressDek rails to avoid modifications to existing floor

Optional locks or PIN-code access for security

Choose from a variety of colors and end-panel designs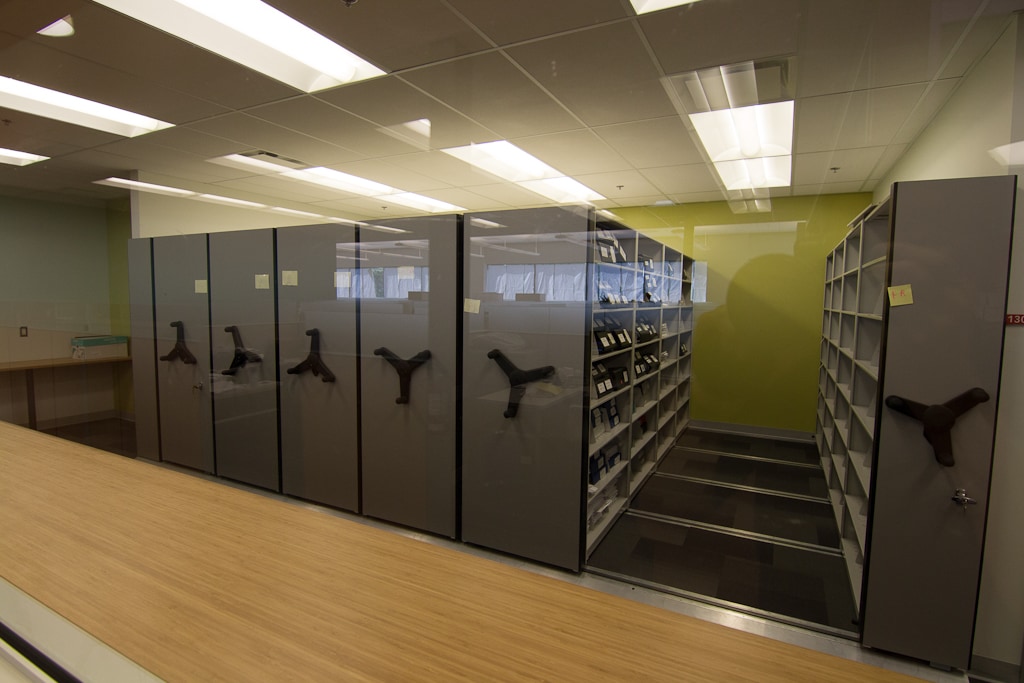 OPTIONS
Choose from the following control options:
Powered

– Aisles open with the touch of a button. Plug-in-the-wall power makes installation a snap, and the priority aisle feature even can return the system to its most useful default position.

Mechanical Assist

– Aisles open easily with the turn of an ergonomic, 3-spoke handle. An exclusive anti-drift brake is standard on floorless rail systems. Waist-high lock and hub lock available for added security.

Manual

– Aisles open with a standard pull-handle for smaller storage applications that require less frequent access. Optional waist-high lock is available to secure the system's content.
Specifications – Mechanical-Assist
Specifications – Electric/Powered
Overview

Wheelhouse's sustainable design and durability in these affordable shelving systems can help you take control of your storage space.

Efficient design uses less steel and is manufactured from a high percentage of recycled material and low-emitting finishes

Choose from Powered, Mechanical Assist, or Manual operation to easily open aisles

Comes with a full range of standard and optional automatic safety features, including safety sweeps, brakes, and anti-tip rails

Multiple floor rail options, including option to pair with XpressDek rails to avoid modifications to existing floor

Optional locks or PIN-code access for security

Choose from a variety of colors and end-panel designs

OPTIONS

Choose from the following control options:

Powered

– Aisles open with the touch of a button. Plug-in-the-wall power makes installation a snap, and the priority aisle feature even can return the system to its most useful default position.

Mechanical Assist

– Aisles open easily with the turn of an ergonomic, 3-spoke handle. An exclusive anti-drift brake is standard on floorless rail systems. Waist-high lock and hub lock available for added security.

Manual

– Aisles open with a standard pull-handle for smaller storage applications that require less frequent access. Optional waist-high lock is available to secure the system's content.

Specifications – Mechanical-Assist

Specifications – Electric/Powered