Boost circulation numbers with eye-catching displays.
It's a well-known fact that patrons are more likely to check out books and other items when those items are placed on display. That's why Patterson Pope is proud to offer Spacesaver's cantilever library shelving, which offers a variety of storage and display shelving options and is ideal for public libraries, academic libraries, law libraries, and corporate libraries.
---
We offer a wide range of options and accessories to customize the appearance and function of the cantilever shelving. We can install zig-zag display shelves, periodical display shelves and other specialized media display shelves. We can also add casters to create mobile carts, along with pull-out bins and other accessories to provide convenient access to DVDs and other media. End panels can be customized for your library shelving to enhance your facility's interior design. We've provided end panels featuring wood, acrylic, recycled paper, and even old photographs. If you can dream it, we can do it.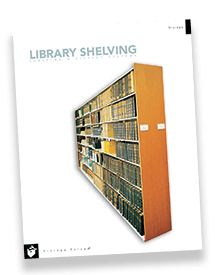 Why are we whispering? It's perfectly ok to use your regular voice while downloading this Cantilever Library Shelving Brochure. (Unless, that is, you are actually in a library right now!)
---
---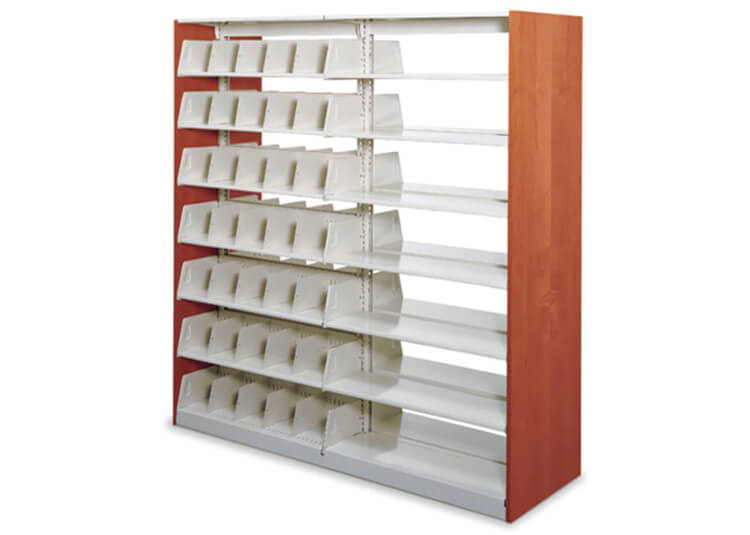 ---
These cantilever shelving units are built to last. The sturdy steel frames are welded for strength and durability, and metal gussets are welded to the base support to help meet seismic requirements. This is the trusted shelving solution for thousands of libraries all over the world. Our cantilever shelving units can be used in stationary (non-moving) applications or they can be installed on mobile carriages (compactors) to create compact storage solutions
---