If you're a fan (pun only half intended) of effectiveness and efficiency, you're going to really like this product.
The Go Fan Yourself TAZ fan is constructed with a corrosion-resistant fiberglass housing and maintenance-free motor, "long life" is just the first of the cooling fan's many attributes. Imagine… a seven-foot industrial adjustable fan that covers 5,000 square feet and can move 80,000 CFM.
---
Benefits of the TAZ Fan include:
---
Two directional setup with 6 airflow deflectors: throws air 100 on both sides or 200 in one direction
Can be installed in areas that HVLS fans cannot fit in – idea for areas that have tight spacing or obstructions near ceiling (power drops)
Heavy duty for industrial applications, dairy barns & stadiums
Robust fiberglass housing, lightweight design prevents suspended apparatuses near the unit from interfering with fan operation
Open-platform ABB™ controller with the largest heat sink in the industry
Control up to 26 fans from a single controller, streamlining building management systems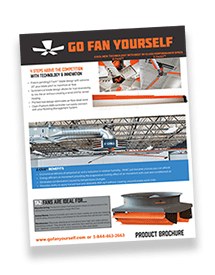 Should we go left? Should we go right? The TAZ Fan cut sheet is a great place to start when you are looking for two-directional fans. Download it today.
---
---