Secure storage to preserve the chain of custody.
Pass-Thru Evidence Locker The pass-thru evidence locker system is built into the wall that separates the evidence-drop-off area from the evidence room. Officers deposit evidence on the drop-off side, and an evidence technician retrieves it on the other. A full-size rear door allows the evidence technician to efficiently remove items and reset the front locker opening. An optional front-lock-out storage system can be used to automatically lock the front doors when the rear door is opened to prevent unauthorized access to the evidence and property room through an unlocked evidence locker opening. Also available is a mesh rear door for a visual accounting of evidence storage.
---
Non-Pass-Thru Evidence Locker With non-pass-thru evidence lockers, evidence is deposited and retrieved from the same self-closing doors without the need for keys or combination locks. Only authorized personnel can remove items. The evidence lockers easily mount against a wall.
---
Both deliver the utmost in security and integrity of evidence preservation and evidence retrieval.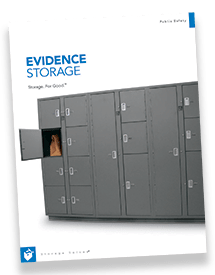 You may not have a Hummer or walk Miami's beaches, but you can enjoy CSI-like glamor with the right evidence lockers. Download the Evidence Lockers brochure to crack the case and secure chain of custody.
---
---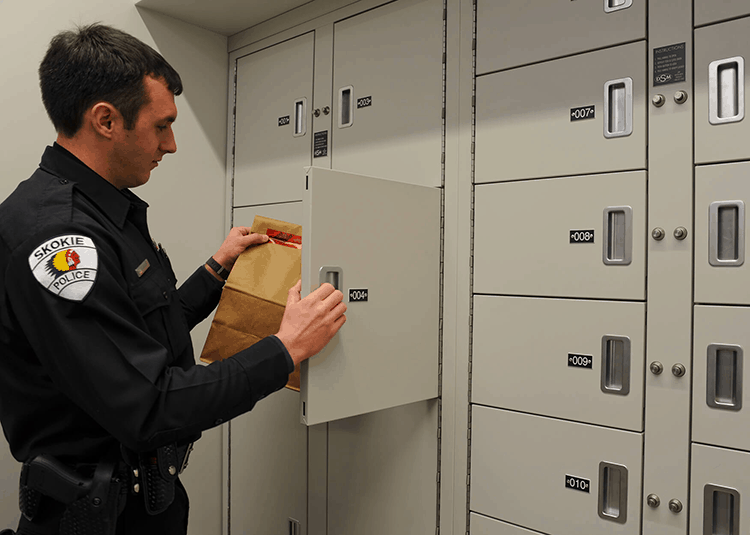 ---
Evidence lockers are specifically designed to provide secure chain of custody during the critical short-term evidence storage period — the period of time when evidence leaves the hands of the person who collected it to the time when it is properly logged and stored in the evidence or property room.
---
Evidence lockers serve as an airtight, unattended evidence drop-off system. Officers can securely deposit evidence day or night without having to deal with keys or combinations, or rely on an evidence technician to be called in after hours.
---