How do you keep your cool in any situation? Just Chill.
Why temper your enthusiasm for great solutions when you can instead provide an economical tempered cooling solution to keep your space operating at its highest level? In addition to boasting vented louvers designed to equally distribute air across the entire circumference of the fan, dual diffusers helps ensure cool air even under the center of the unit, thus eliminating "dead zones." Go on… liven up your workspace with the Z-Chill Fan and Diffuser System from Go Fan Yourself.
---
Benefits of the Z-Chill Fan and Diffuser System include:
---
Moves air at 425,000 CFM (cubic feet per min), increasing coverage area up to 30% compared to other HVLS fans
Symmetrical Z-Tech™ blade design allows for true reversibility for year-round operation, with no wind chill created
Open-platform ABB™ controller allows you to streamline building management systems, with the largest heat sink in the industry
Designer series gives you the ability to customize Z-Tech™ fan to best compliment your facility
Suitable for mounting to I-beam, top or bottom chord angle iron, L-bracket and Z-purlin; multiple installation applications available
Lifetime warranty: blades, hub and mounting system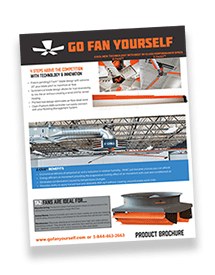 It's cool to be cool (or warm, as the case may be). Download the Z-Chill Fan cut sheet to see how you can keep the temperature just right in your facility.
---
---