Don't sweat the small stuff. Keep it organized with a modular bin shelving system.
Almost any work environment has small items that need to be organized and accessible. That's why the FrameWRX® Bin Shelving System is popular in IT departments, pharmacies, factories, supply rooms, schools, and other settings that require convenient, compact storage.
---
No matter how fast or frequently your storage needs change, the FrameWRX bin shelving system keeps pace. Its shelves, bins, pegs, work surfaces and EZ Rail element can all be rearranged on demand — without tools or fasteners. The storage system easily accommodates a variety of storage accessories, including hanging plastic bins, peg-board hooks, cart bins, and slat-wall accessories.
---
Highly customizable and easily movable, the unique design of the FrameWRX bin shelving system adapts easily to meet your changing storage needs. All it takes is your vision for its unlimited storage possibilities to make the FrameWRX storage system exactly what you want it to be — today and tomorrow.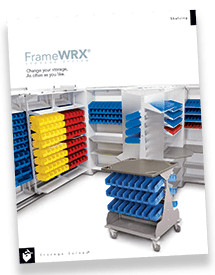 ---
No, Bin Shelving is not the name of a new Star Wars villain, but it turns out that it's actually a cool way to store stuff. This brochure will give you all of the details. Download it now.
---
---
FrameWRX bin shelving system facilitates the efficient retrieval of frequently accessed items. The system is fully configurable, allowing you and your staff to make adjustments on the fly. It provides even more convenience and flexibility when mounted on a cart, installed in our high-density lateral system (FrameWRX HD), or installed in one of our shelving units.
---
We can help out with the design your project to ensure the most efficient use of space, and we also provide installation services, staff training, and ongoing maintenance.
---