ActivRAC Industrial Mobile Shelving System: Heavy Duty Storage for the Warehouse and Beyond
It seems like storage space is always running out, especially in warehouses and storage rooms. The amount of stuff you want to store and the services you want to provide are constantly changing, yet the amount of space you have remains exactly the same.
---
Using an ActivRAC Industrial Mobile Shelving System, you can increase the storage capacity per square foot in your storage space without costly expansion or disruption to daily activity. With this heavy-duty mobile storage system, stationary rows of shelving are mounted on carriages that move side-to-side on wheels and a rail system. This system still allows for fast, easy inventory access by employees or forklifts while utilizing the warehouse space much more efficiently.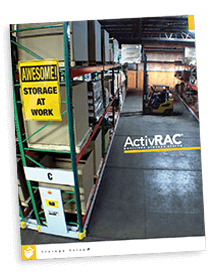 Just doing your homework, huh? This ActiveRAC brochure should provide all the information you need to get your project started. Download it now.
---
---
---
ActivRAC Options
ActivRAC heavy-duty mobile storage has never met a load requirement or space challenge it couldn't handle. The system can hold up to 30,000 pounds per carriage and can be designed around height restrictions and columns. Every system offers a host of safety features to ensure that personnel and stored items are secure.
---
4 Types of ActivRAC Industrial Mobile Shelving Systems
---