Keeping you comfortable in big spaces, without breaking the bank. That's a cool idea!
A simpler, more economical version of our Z-TechTM fan, the "3" is a big-time solution for those looking to cool larger spaces with a big fan without breaking the budget. Offered in five sizes (from 8 to 24 feet), each one delivers exceptional cooling power. Designed and engineered to help create comfortable, workable spaces in even the largest square-footage areas, these are simple industrial fans offering optimal results.
---
Benefits of the Z-Tech3 include:
---
Patent-pending Z-Tech™ blade design with 20º plus pitch moves air at 329,800 CFM (cubic feet per min
Increases coverage area up to 30% compared to other HVLS fans
Symmetrical Z-Tech™ blade design allows for true reversibility for year-round operation with no wind chill
Open-platform ABB™ controller can streamline building management systems, largest heat sink in the industry
Designer series offers custom color combinations and designs
Lifetime warranty: blades, hub and mounting system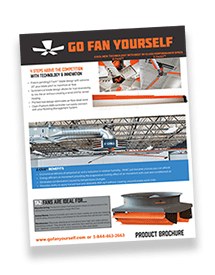 It didn't win a Golden Globe, but find out why so many people are big fans of these big fans. The Z-Tech3 Fan cut sheet has all the details. Download now!
---
---