Make the Most of Limited Spaces
Perfect for alcoves and limited spaces, Spacesaver Bi-File (two row) and Tri-File (three row) high-density lateral sliding shelving systems are an affordable way to maximize storage capacity.
---
The concept of the high density lateral sliding shelving system is simple: two rows of filing equipment placed in nearly the same footprint where there was once only one. The front shelf sections rest on movable carriages that travel back and forth on a track. This movement allows access to the back row of stationary shelving, but gives you double or triple the file storage space compared to static shelving.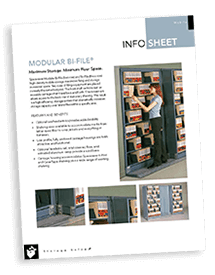 It's hard to make the best decision without all the facts. Download the High-Density Lateral Sliding Shelving brochure to help make your decision making process a little bit easier.
---
---
product accessories Links
---