Flag Collection aboard WWII Aircraft Carrier Commemorates Patriots' Past
When visitors wind their way through the lower decks of the USS Yorktown, they are not only traversing through an engineering enigma; they are walking through the past. As the first ship retired at Patriot's Point to be designated a "museum," its hallowed hallways – and hull – echo a time central to our very freedoms. Outfitting various areas onboard to most effectively showcase a flag collection reminiscent of the ship's World War II heyday was a challenge. In that effort, planning, partnerships and a good bit of ingenuity played key roles.
---
HOW STORAGE MADE THE DIFFERENCE.
Newsflash: the USS Yorktown was designed and built to be an aircraft carrier, not a museum. Nevertheless, when it was decommissioned by the U.S. Navy in 1970, a museum it became. Today, anchored at Patriot's Point near Charleston, SC, it serves as a window into the past. One of the many celebrated groups of items is a collection of flags. These flags commemorate the ship itself, the country it represents and the times during which it sailed. Finding the right way to store these treasures was a challenge worth meeting.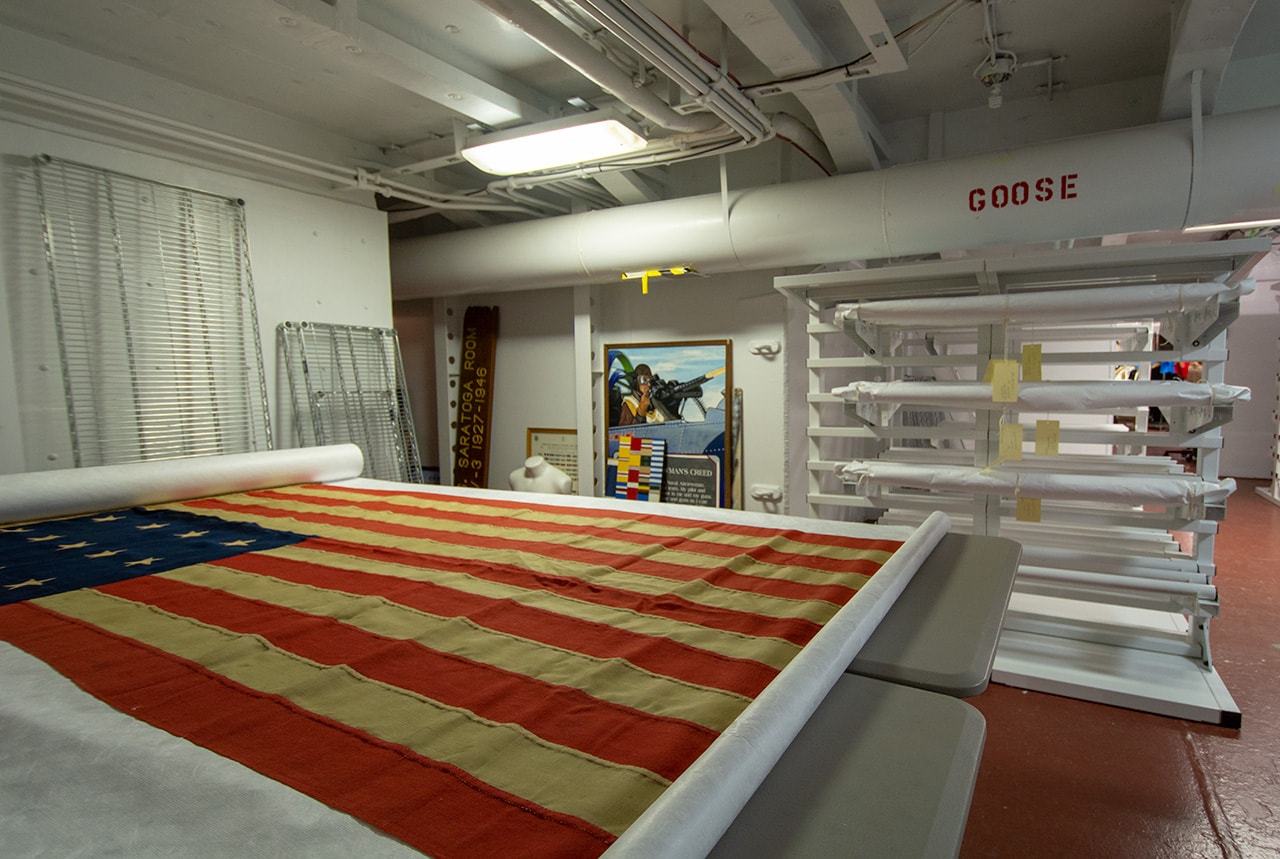 ---
Aboard the USS Yorktown, finding a spot to house the collection was just the beginning. To make the space more amenable, an interior wall was cut away to add additional room. Inside that space, HVAC piping running along the relatively low ceilings created an additional challenge. When the right shelving was decided upon – textile racks – getting it down into the designated area and then properly assembled was a mission in itself. Navigating a narrow ladder, hairpin turns and "ankle-knocker" portals were obstacles that added to the adventure.
---
"With the help of Patterson Pope, we've been able to store and showcase flags that really give a sense of our ship's history. It's helped us give our visitors a sense of what life was like here on the USS Yorktown, and it's always interesting to hear the stories our flags evoke."
- Melissa Buchanan, Collections Curator, USS Yorktown Patriot's Point