Massive Media Collection Helps Clovernook Center for the Blind Aid the Visually Impaired
Continuous growth led Clovernook to purchase an additional space in which to store its diverse and vibrant collection of media. Taking over an older office building that was not originally used as a warehouse provided them an opportunity to re-imagine the space. As part of that process, they opted to install a custom-designed high-density system that could both accommodate their current needs and provide ample room for future expansion.
---
HOW STORAGE MADE THE DIFFERENCE.
Based in Ohio, the Clovernook Center for the Blind and Visually Impaired does a lot for the community it serves; it's a community that's national in scope. The organization stores braille and audio books in accessible formats. These items are then shipped to libraries across the country. Many of these items are created on site! As the agency's collection expands, the more materials it has to lend. The more lending they do, the more materials they find necessary to collect. Success breeds success.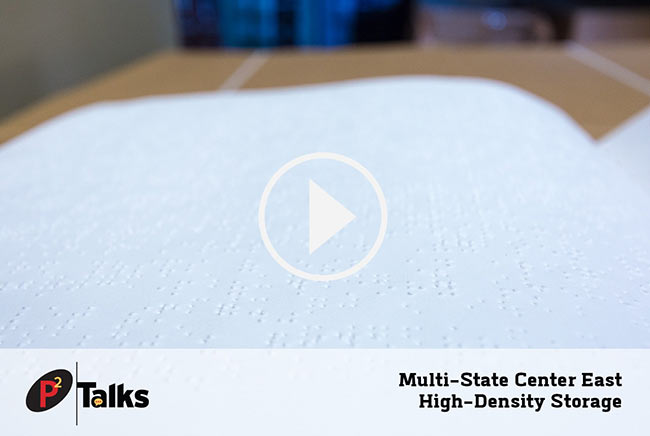 ---
In an L-shaped section of this secondary structure, a 10-aisle ActivRac mechanical-assist high-density shelving system was the ideal choice. The lockable unit covers 4,600 linear feet and boasts 11-foot-high shelves that easily accommodate boxes of media materials and assorted bound volumes. It's the first step on the path to an even bolder organizational effort; namely, to categorize and divvy up the vast collection into separate areas.
---
"I've been working with Patterson Pope for years, and there's never a redo. The design, install and maintenance have always been flawless."
- Jackie Conner, Vice President, Multi-State Center East