Storage and Study Front and Center at Historic Southern University.
With more than 1,200 items, the Clark Atlanta University (CAU) Art Museum boasts an impressive amount of artistic history in its possession. Many of those works are on display in the museum's 2,500 available square feet of display space. Others, however, are kept out of view in the museum's basement on floor-mounted art racks. While 44 racks were installed years ago, the adequate display of those exceptional pieces required an additional 16 racks. The added storage meant more work could be safely secured – and made it possible to show previously under-viewed items to small tour groups and those eager to see additional works by specific artists in the collection.
---
HOW STORAGE MADE THE DIFFERENCE.
Sometimes, when you make a change that really works, it spurs additional transformation. That's exactly what happened at Clark Atlanta University. Already known for its sizeable collections of African-American art and African artifacts, the school was eager to burnish its reputation as a promoter of cultural expression. After first augmenting its stock of art racks to help store and showcase important works, the next step was to improve hands-on learning. The result was a room re-imagined as a space to understand the language and art and to train tomorrow's museum curators.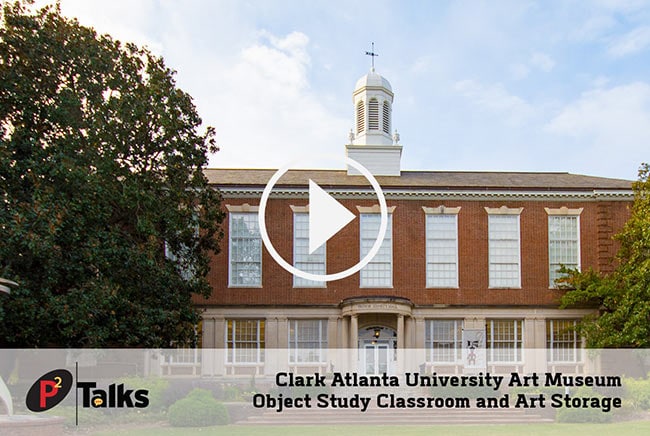 ---
Art exists to be seen. With that keenly in mind, the CAU Art Museum's director also saw the potential for change in a room immediately adjacent to the gallery. Used as office space, the room had real promise as a learning space – a place to teach future curators and art/artifact aficionados alike how to appreciate and care for individual pieces. With a little design inspiration, a healthy dose of creativity, and a dash of storage experience and expertise, the museum's director decided that the time to transition the space to something new was now.
---
"I wanted a space where we could bring up additional works for faculty, visitors and scholars to study and really interact with the art. That's how the idea of the 'object study classroom' was born."
- Dr. Maurita Poole, PhD. Director, Clark Atlanta University Art Museum