High-Density Storage Units Help Open Up Space for Collaboration and Innovation
The Mori Hosseini Student Union is the centerpiece of Embry-Riddle University's campus in sunny Daytona Beach, Florida. It serves as not only a gathering place for students, faculty and staff, but as a beacon of excitement and potential for the area at large. Some of the building's third floor and every bit of its fourth floor are dedicated to the Hunt Library. Like so many library's today, it boasts lots of natural light and loads of open spaces. A critical aspect of being able to open up those spaces was the creative use of high-density shelving through Patterson Pope.
---
HOW STORAGE MADE THE DIFFERENCE.
When you're a university that specializes in state-of-the-art science and engineering, you do things to a higher standard. Whether that's in a commitment to turning out tomorrow's STEM leaders and difference-makers, or making sure your campus union and library showcase a commitment to excellence, the effort is the same. Embry-Riddle Aeronautical University turned to Patterson Pope to help ensure its library shelving both performed at top levels and that its aesthetics matched the institution's forward-looking architecture.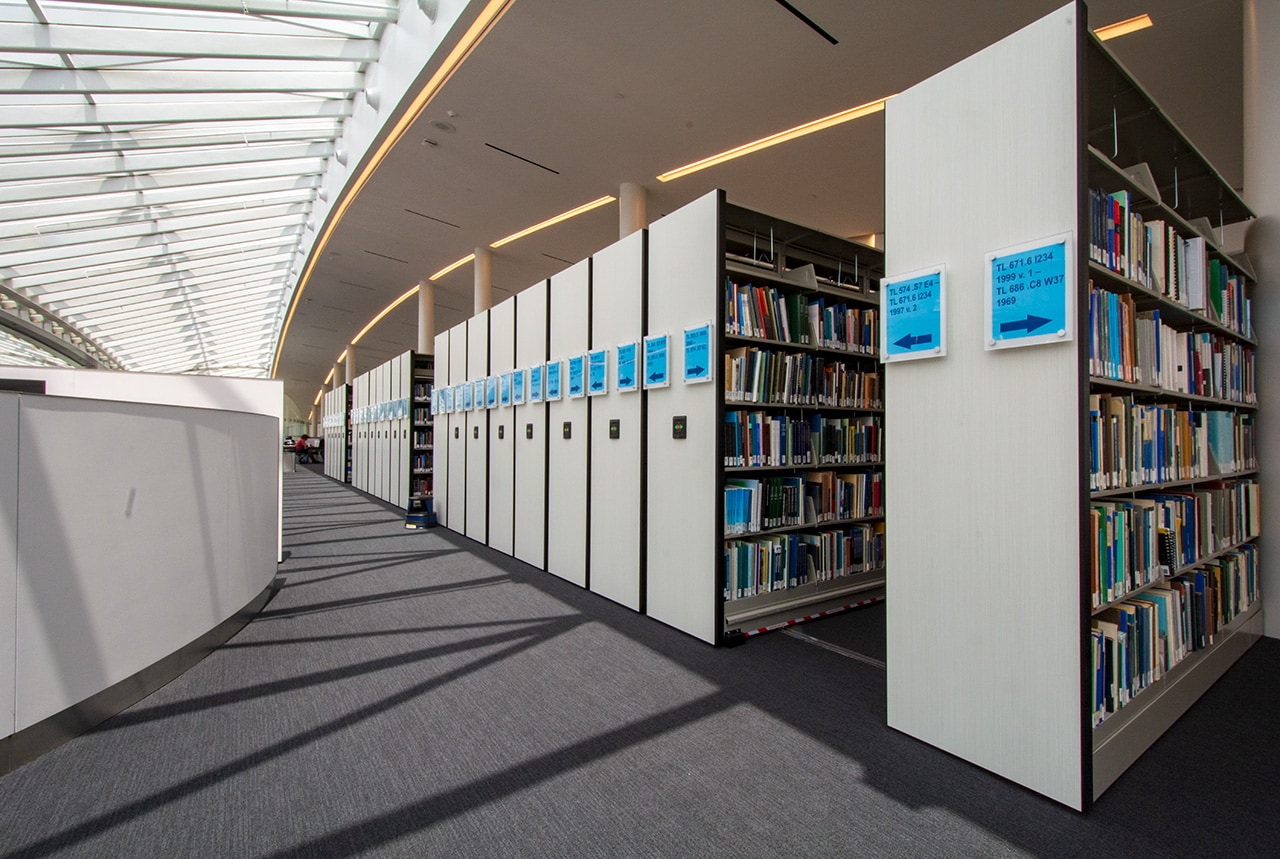 ---
Prior to its move into the new union, the Embry-Riddle Library had been in a temporary space on campus. Given space restrictions in that makeshift location, not all of the university's volumes were on display. Some were even stored in a racquetball court that had been commandeered for the purpose. The opportunity to both bring the entirety of the collection together and simultaneously cull older, less relevant volumes in the new building was a chance to start anew. A tandem of Spacesaver Eclipse Powered Mobile units positioned against opposite walls features 33 carriages (five collapsible aisles) and together hold the library's entire collection of nearly 76,000 volumes.
---
"Because of the compact shelving, we were able to consolidate our collection and at the same time maximize the space we have for students to meet and collaborate. That just makes me happy every single day."
- Melanie West, Associate Director for Access Services, Hunt Library, Embry-Riddle Aeronautical University