Leap of Faith Helps Create New Product for Military Personnel
At at a busy base in the Southeast, soldiers who take their jobs seriously go about cleaning, folding and re-packing hundreds of parachutes every month. After years of wear and tear, the unit's existing tables upon which the chutes were folded had started to develop imperfections. Those chips, cracks and sharp edges had the capacity to snag chute material which, in turn, could lead to dangerous tears. Given that reality, unit brass decided on an upgrade.
---
HOW STORAGE MADE THE DIFFERENCE.
We often hear how positive it can be to be "in a groove." When you're so comfortable doing something that you can seemingly complete the task with your eyes closed, it supposedly makes for a smooth workday. But when that task is packing and transporting parachutes for the U.S. Military's enlisted men and women? Suffice it to say that being on "auto-pilot" is not an option. Attention to detail is paramount, and ensuring the right packing environment and transportation equipment is at the ready is a critical component on the road to a mission accomplished.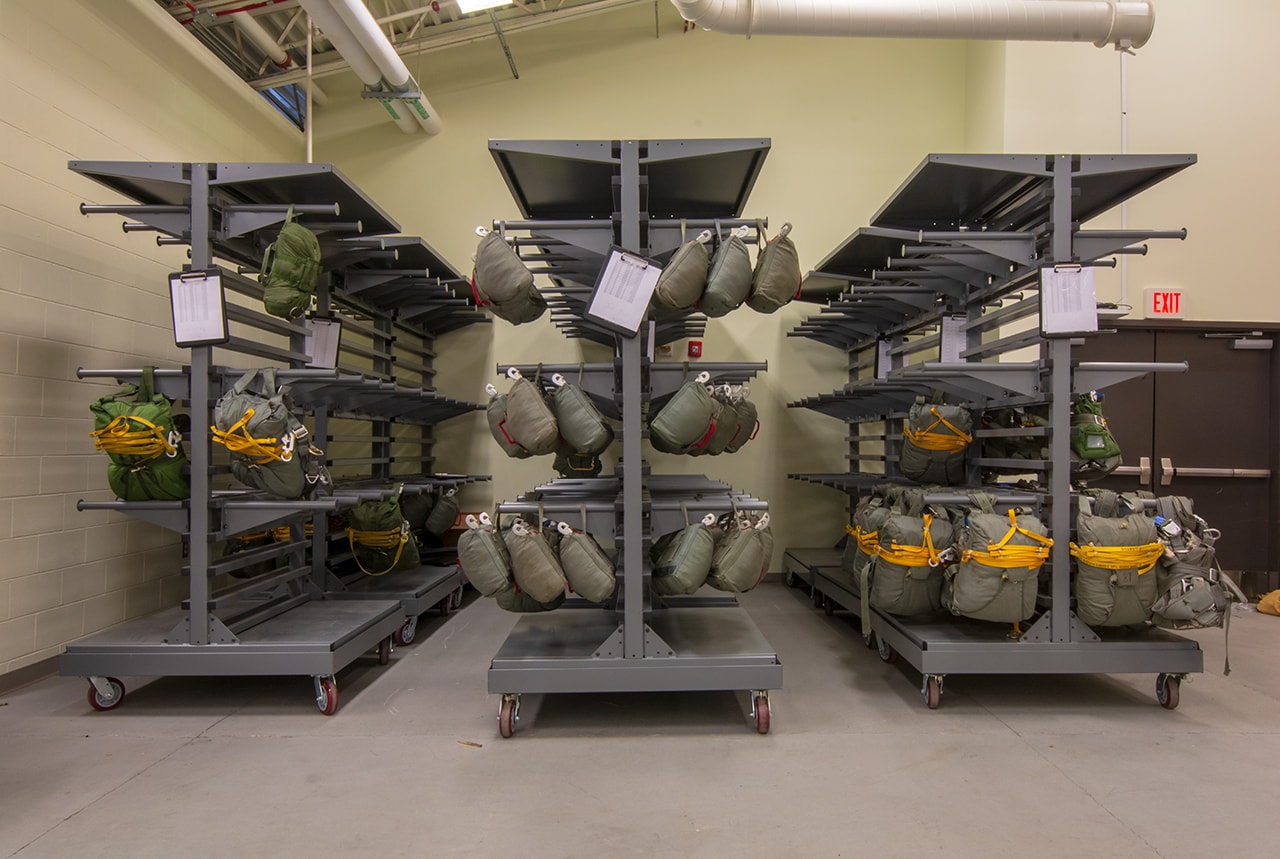 ---
Brand new treated-top tables ensured a smooth, solid surface upon which to work. The resulting peace of mind led to a "What's next?" mentality, which in turn led to a bit of brainstorming and innovation. Putting an new spin on an existing product, unit leaders created an improved tool called a ProPacTM Rack, which allows the soldiers to pack the chutes while standing up. In addition, as many as 20 packed chutes can be loaded onto a customized Double-Sided Hanging Parachute Rack, which allows for faster re-loading of the chutes onto waiting trucks. When necessity called for quick thinking and positive problem solving, this military unit responded decisively.
---
"We're now able to ensure that our operators have the chutes they need when and where they need them. Our system of getting those chutes ready to go has never been better."
– Aircrew Flight Equipment Flight Chief