Reimagined Shelving Design Adds Space and Encourages Interaction
The storage of artworks at the University of Central Florida's gallery has been a labor of love for staff since the school first began collecting in 1978. As the accessions increased over the decades, the available storage space in the gallery's inner rooms dwindled. It became necessary for paintings, illustrations, African masks, sculptures and statues – large and small – to be stored according only to available space and not by theme, time period or even medium. Finally, after years of hoping and planning, innovation led to renovation.
---
HOW STORAGE MADE THE DIFFERENCE.
With only 600 square feet in which to store an amazing assortment of artwork, The University of Central Florida's Art Gallery was in need of a new kind of installation – proper shelving and storage to better accommodate their treasures. After years of planning, the opportunity to create an artistic vision inside the aptly nicknamed "Vault" presented itself in the form of Spacesaver and Patterson Pope. It was a collaboration that brought out the best in style and substance. The result? Inspiration.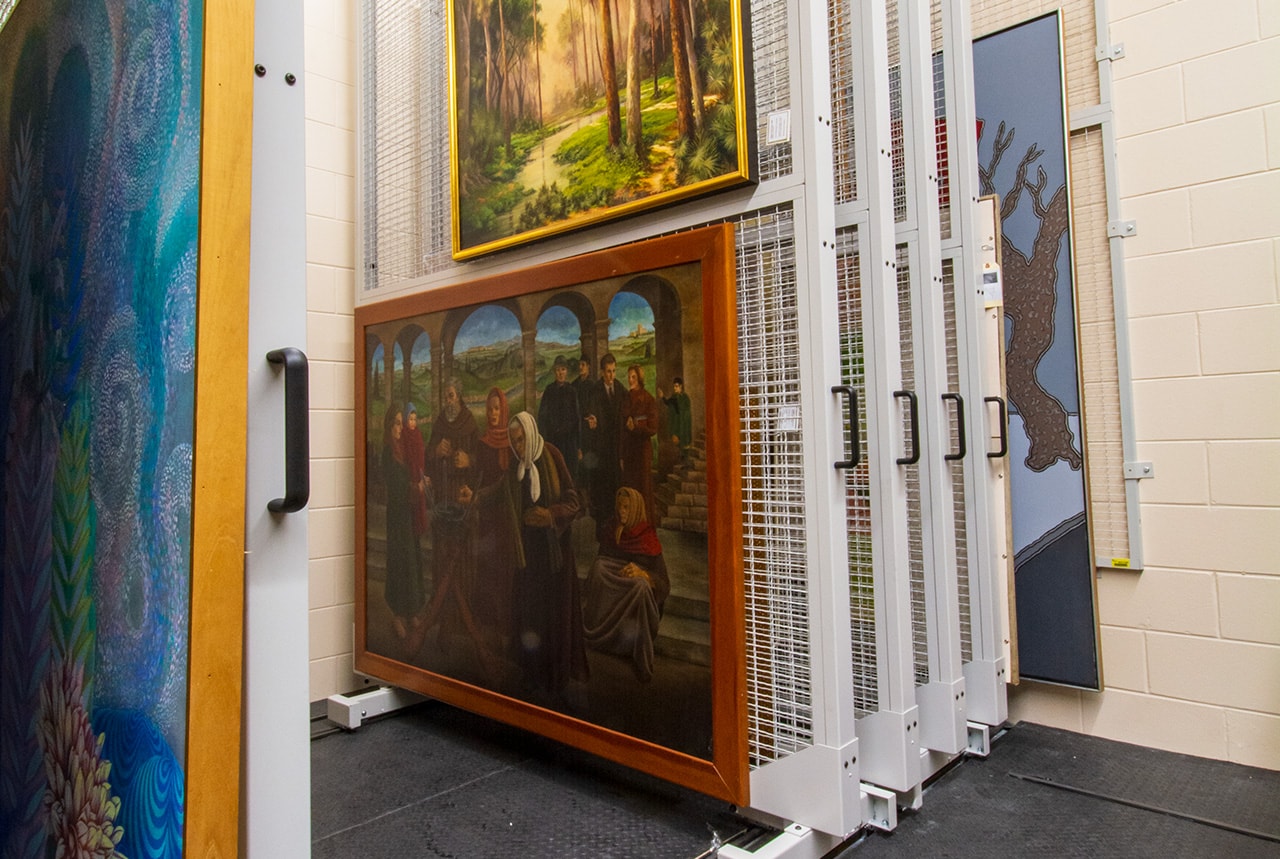 ---
After listening intently to members of the university staff and taking careful inventory of the entirety of the gallery's collection, Patterson Pope put together a plan that helped maximize the small storage room. The space, affectionately known as "the Vault," received a mixture of Spacesaver art racks, mechanical-assist mobile shelving, 4-post shelving and cantilever shelving. Combined with mobile flat files for unframed art and smaller pieces, and EZ rack affixed to the room's concrete block walls, the storage solutions helped to re-imagine and re-invigorate the area.
---
"I think it's really valuable to bring somebody in like Patterson Pope – a company that has a thorough understanding of the functionality of storage."
- Shannon Lindsey, Director, UCF Art Gallery