Outfitting a College Football Stalwart with Winning Gear.
For football fans, the Georgia Institute of Technology is more casually known as "Georgia Tech." While a recent renovation had modernized the team's locker room, the area designated for equipment storage was in need of an upgrade. When funding came through for the project, transformative change to the storage area came with it. For the school's director of equipment operations, the thought and design that went into the upgrade was anything but casual.
---
HOW STORAGE MADE THE DIFFERENCE.
There's always something exciting about watching an innovative offense on the gridiron. When that creative thinking is brought to bear on projects behind the scenes, it only adds to the feeling of accomplishment. When the Georgia Institute of Technology decided to upgrade its football equipment storage, it raised the bar. A new shelving installation not only made access to uniforms and essential items easier, but the added visual impact continues to impress team members and incoming recruits.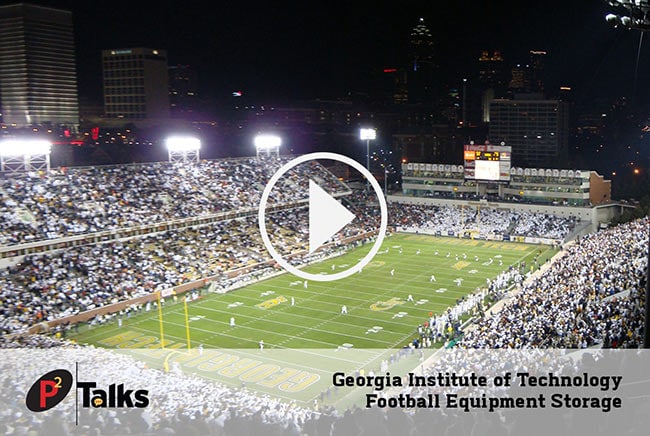 ---
Prior to the renovation, the squad's jerseys were hung on a simple rack affixed to a concrete wall. While some jerseys were within an arm's reach, others were hung higher. Comfortably reaching those required a stool. With a lot of forethought, some interactive planning, and the addition of a mechanical assist, high-density compact shelving unit, the space's reimagining became very real. Organization, visual appeal and easy accessibility led to cheers from all involved.
---
"Patterson Pope gave us everything we asked for; we're so happy. When we got the unit in, we saw that it was exactly what we wanted. The whole set-up really creates a great look, increases efficiency and enhances productivity."
– Tom Conner, Director of Equipment Operations, Georgia Institute of Technology