Galvanized Steel SHARKCAGES™ Prove Their Mettle in Demanding Environment
A diver's equipment is essential for safety. The masks, air tanks, hoses and flippers are the difference between success and danger. Ensuring their good condition is paramount for any professional – even more so when those pros are part of the United States Military. Imagine the surprise, then, when a set of personal equipment lockers at a Southeast base began to show signs of salt water damage just two years after installation. The salinized water was eating away at the lockers' metal, sometimes creating sharp metal edges that had the potential to cut through rubber – be it in a suit or a hose.
---
HOW STORAGE MADE THE DIFFERENCE.
A Special Forces dive school in the Southeast noticed that after just two years with its existing equipment storage lockers, the ocean's salt water was having an adverse effect on the lockers' integrity. Eager to find a replacement made with durable, dependable galvanized steel, the unit opted for an upgrade to specially designed lockers made out of "Sharkcages." Designed initially for modular, intermodal warehousing and transport, they were reconfigured to serve as walk-in lockers. Working like a charm, they definitely left a mark.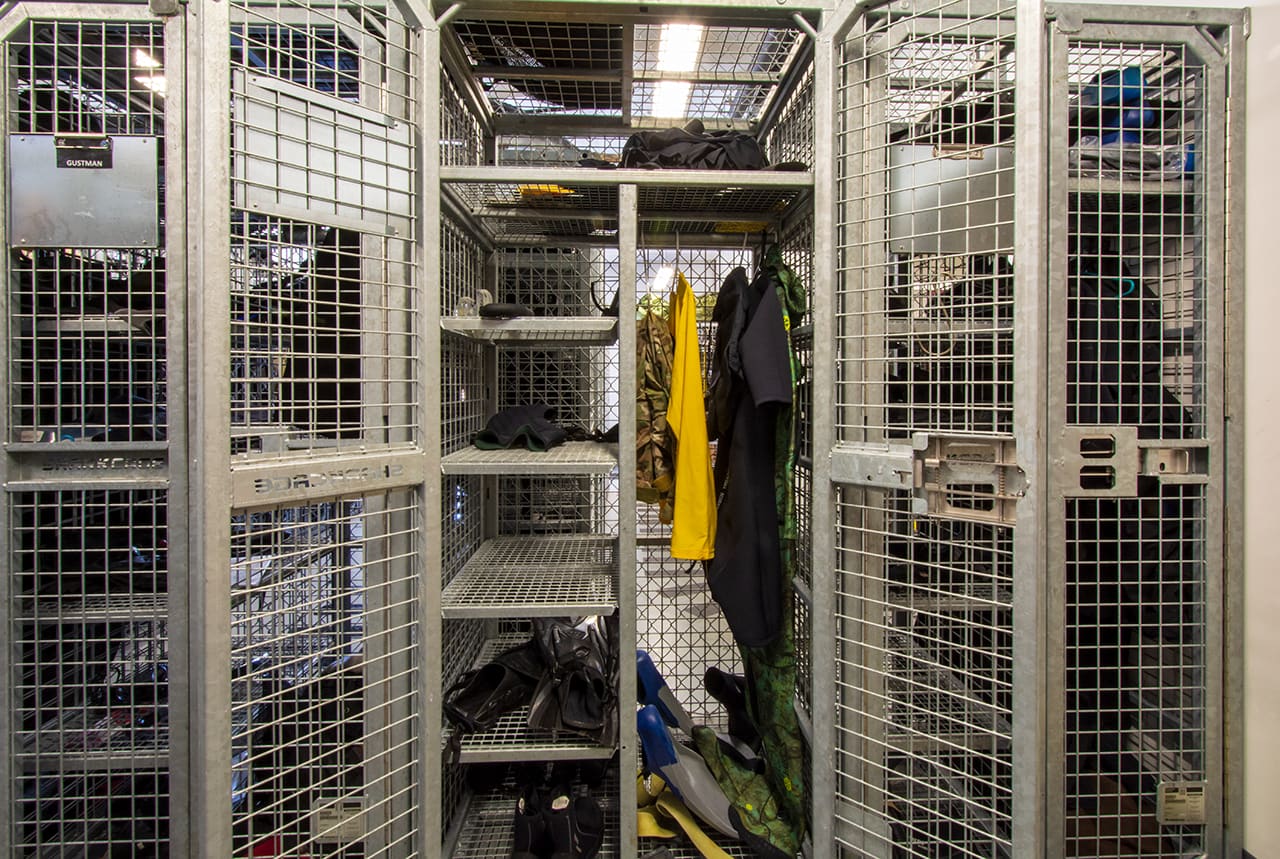 ---
Standing up to the salt water of the Atlantic Ocean can be a tall task for a lot of materials. One thing that always passes that test, however, is galvanized steel. That's the stuff from which SHARKCAGES are made. Employed by many different branches of the military, in their most common form they are used as transport. Knowing their tenacity, the decision was made to use the stellar steel to form a new product – a walk-in locker. Strong enough to resist rust, it proved to be an exceptional choice to use as the foundational piece in the construction of tough and spacious walk-in personal equipment lockers.
---
"These lockers were custom built for us. We got exactly what we wanted."
– Resource Manager for Air Force Special Forces Dive Unit