Re-Purposed Shelving Helps Reinvigorate Museum Storage
When Emory University's Michael C. Carlos Museum adds new pieces, it's not a three- or four-item proposition. Collections can grow by hundreds of items at a time. Naturally, finding adequate storage for these items – in a manner suitable to curators – isn't always an easy task. Devising the best storage solution for items of different shapes and sizes is a challenge worth undertaking, especially when do so properly celebrates the collection.
---
HOW STORAGE MADE THE DIFFERENCE.
Something old, something new. Something borrowed, something…shrewd? Necessity and opportunity married nicely for Emory University. When the campus library decided to get rid of several linear feet of its older shelving as part of a modernization effort, the material was re-purposed less than a mile away as part of a storage redesign at the off-site storage facility for the institution's Michael C. Carlos Museum.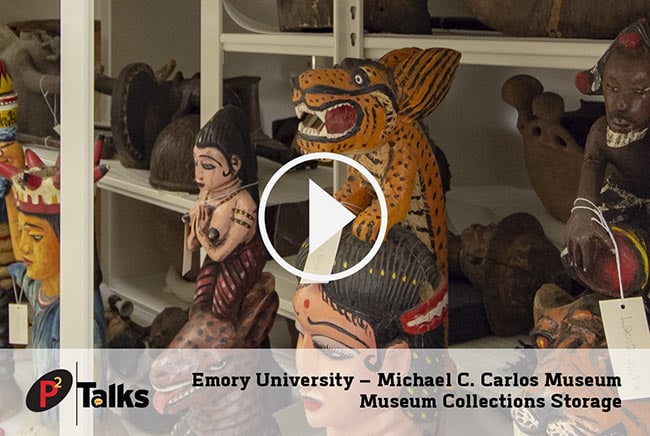 ---
Much of the appeal of a museum's collections is in a curator's ability to help patrons see the items in new ways. A change in perspective often times helps illuminate even those things that might have been seen before. As it turns out, the same can be said for the shelving on which those items are stored. The ability to re-imagine how older shelving from a completely different installation might help accomplish a new task is equally illuminating… and cost-effective.
---
"We've worked with Patterson Pope for a number of years. In fact, all of the shelving within this off-site storage building came from Patterson Pope. We've been very happy with them as a partner."
– Todd Lamkin, Director of Collections Services and Chief Registrar, Michael C. Carlos Museum