For 50 years, Wake Forest University's sports equipment room was housed in historic Reynolds Gymnasium.
At just over 4,000 square feet – 3,500 of which was used for storage – it was nearly bursting at the seams in its effort to accommodate gear for 16 sports. When a campus renovation made a move to a larger space possible, the equipment room was transferred to the campus's old weight room, which itself was relocated to another space.
---
HOW STORAGE MADE THE DIFFERENCE.
Six moveable – and lockable – sections were installed. The placement of existing support pillars meant that the moveable aisles were interspersed with static shelving. In the end, there was room for equipment for 12 different sports, along with overflow for four additional sports. Each team that has an aisle utilizes both sides. Some smaller sports share aisles.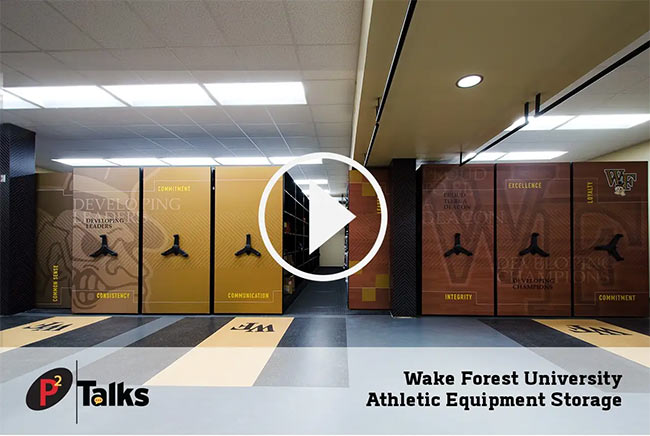 ---
The new look is not only functional, but will act as a recruiting tool, as well. "It's going to attract plenty of young athletes who will be able to feel the energy here," added Davis. For Moody, the new environment speaks volumes about not only her vision, but about what a pleasant space can do for a student-athlete.
---
"Now, everyone's got room for their stuff. It's spacious and it's comfortable. They're going t spend a lot of their time with athletics, so it only makes sense that they're comfortable here."
-Roxann Moody, Assistant Athletic Director, Equipment Services, Wake Forest University