Touchless Workplace Lockers
As employees start to re-enter the workplace, help eliminate the number of surfaces they need to touch and help give them piece-of-mind with clean touchless lockers.
Touchless Lockers & De-Densifying the Workspace
As workspaces de-densify and businesses adjust to a new way of working that resembles an assigned desk and locker policy (or an unassigned, strict clean desk policy), regardless lockers will play a prominent role in giving your employees a place to call their own. And with touchless lockers your employees can have a clean and practically touchless experience.

Lockers can be designed in all different sizes, tiers, materials and configurations. While lockers can be built into a wall, they can also be part of a storage wall partition to help break-up space while keeping the feeling of an open office.
Designing spaces that allow your employees to feel safe and feel like their belongings are cared for can help communicate your company culture and values.
touch-less locker brochure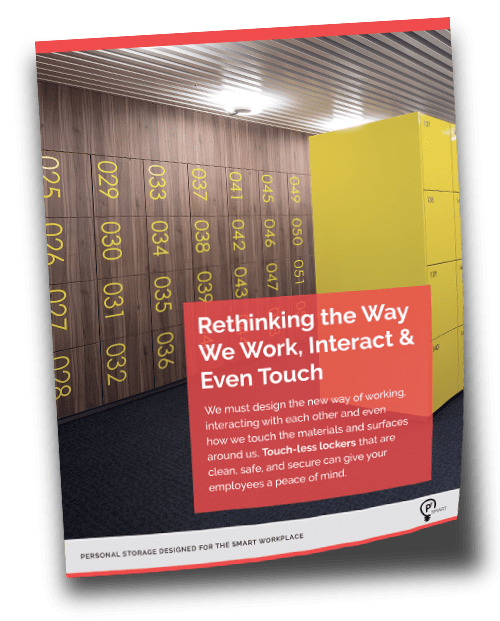 There is Much More Behind These Beautiful Lockers
Let's explore some of the workplace locker features:
Social Distancing Isn't Just For You and Me
Eliminate the risk of having your employees stand shoulder-to-shoulder in order to put their belongings in their locker for the day. You can manage your lockers to create safe social distances between what lockers can be accessed and when, by programming the lockers so that some locker columns or openings are not accessible at certain times.
Learn more about how you can now manage your lockers an entirely different way with Touch-less Lockers
Cleanability of Lockers is Taken to a Whole Different Level
Cleanliness is the topic of conversation lately. Because our touchless lockers don't have any locks mounted to the door fronts (like your traditional battery-operated lock would), our lockers have super clean lines and no protrusions on the doors making them easier to clean. And the interaction with the lockers is practically touchless, requiring only a nudge of an elbow to shut the door after depositing or retrieving belongings. But our lockers can do more than just that...
Locks so smart they know when the locker needs cleaning.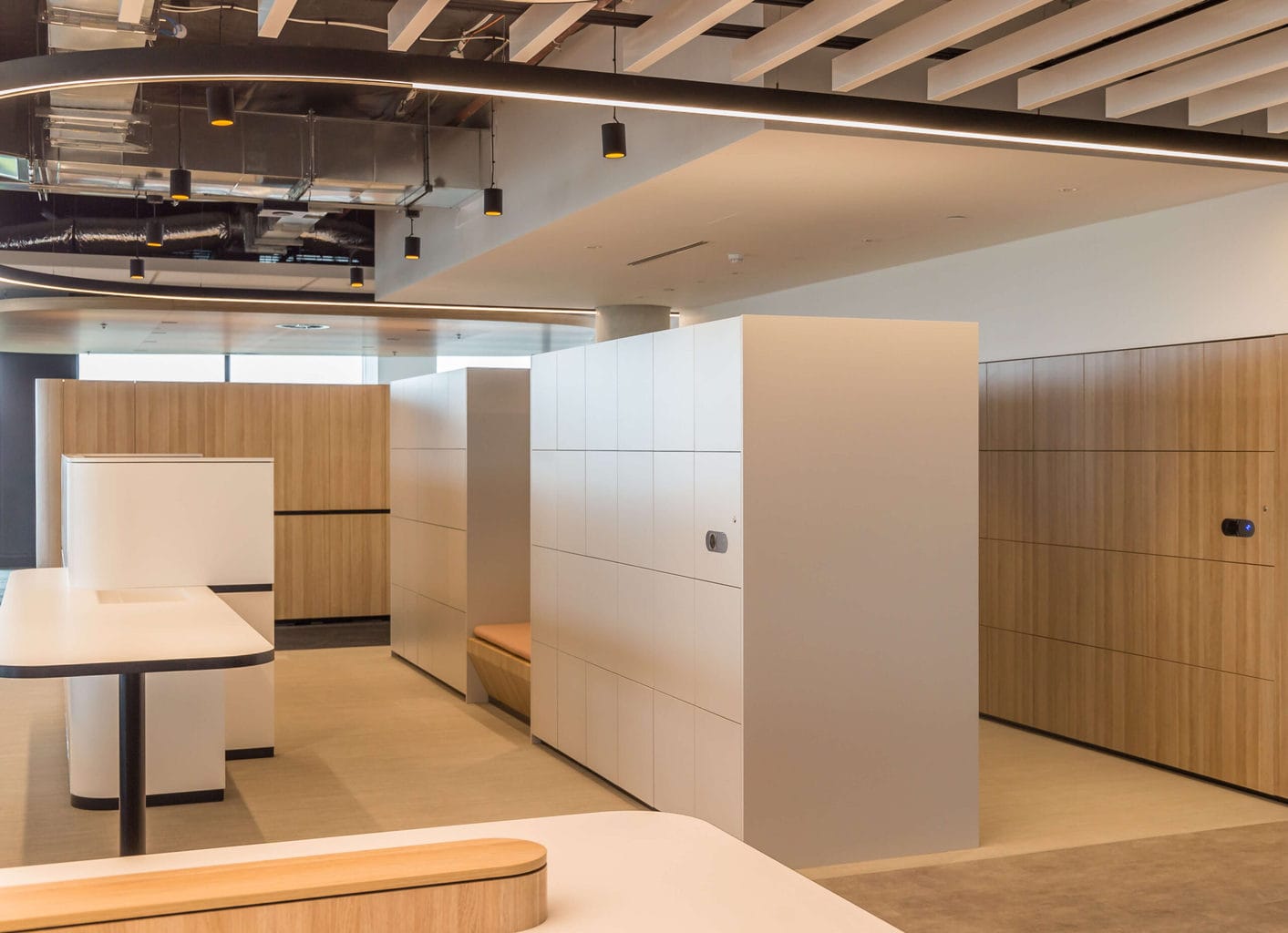 No need to worry about using a locker that hasn't been cleaned after the previous user. When lockers are unassigned to a specific user and the person is done using it for the day, our smart locking solution can lock that locker down until cleaning staff has had the opportunity to clean and disinfect the locker. Once cleaned, the locker would become accessible for use again.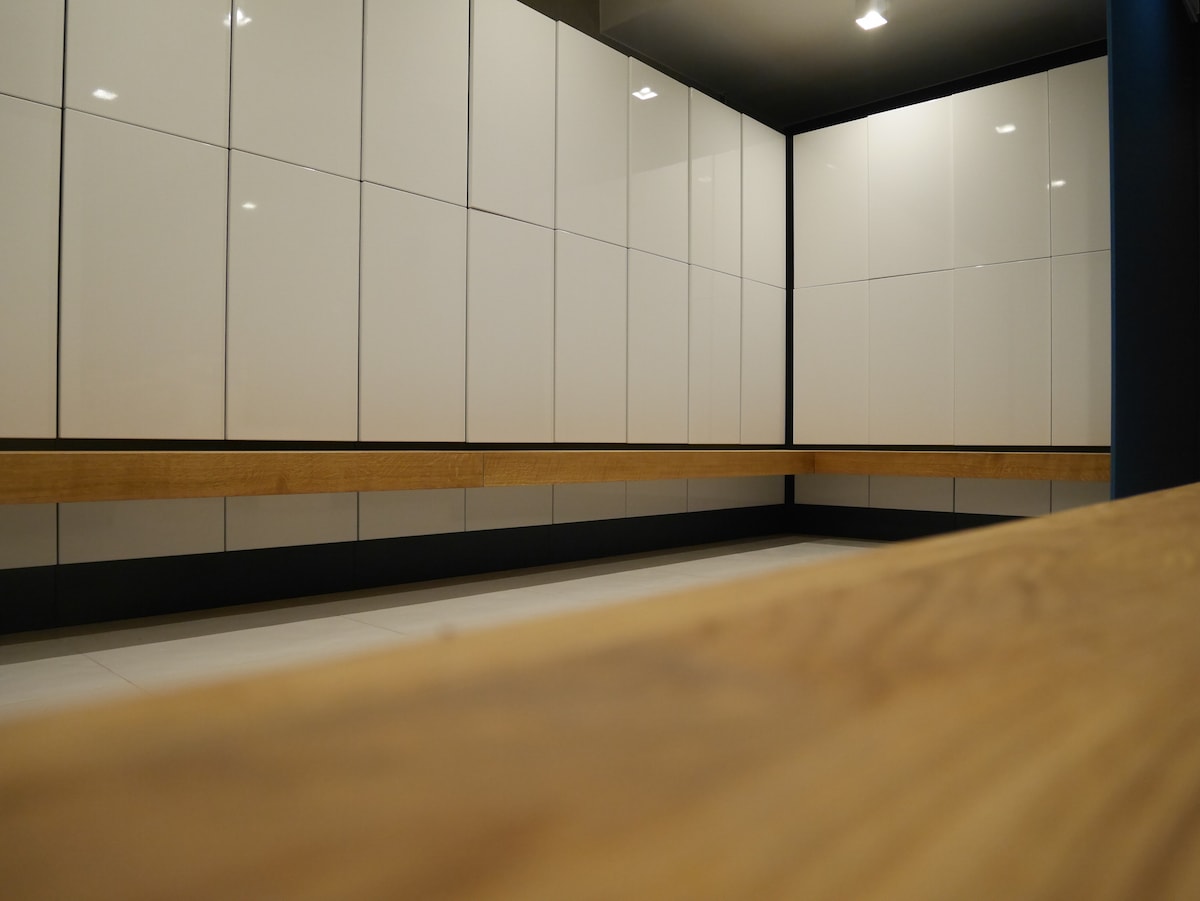 Rather than having every locker cleaned every night by your cleaning staff, save time by only cleaning the lockers that were used. Administratively, you can temporarily assign cleaning crews access to specific lockers.
Access Management Integration & Security
Metra Locking Systems, as a HID™ Advantage Technology Partner, offers an easy to integrate smart locker solution for workplace lockers, so your employees can unlock their smart lockers with their HID access media — including using mobile credentials in a phone app or even in their wearable, like a smart watch. Organizations, which use HID™ access control systems, can now easily extend their access security level to all their workplace lockers.


HID Mobile Access® opens doors in a whole new way. With an innovative, patented gesture technology, just twist the mobile device upon approaching a locker for seamless access.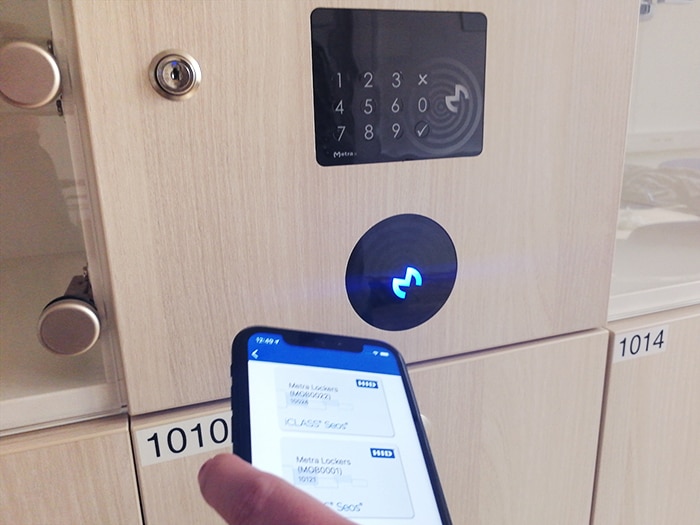 The core purpose of a visitor management system is to manage the visitor experience, it also involves mitigating the risk of spreading COVID-19. Your smart lockers can play a role in helping manage your visitors and contractors usage of amenities around the office.

Visitor management allows you to maintain a record of every client, job candidate and contractor who comes into your workplace. It serves the critical function of protecting your workplace from unauthorized visitors, including solicitors and former employees.
Learn More About the Technology Integrations
Download this brochure to learn more about our touch-less lockers. This brochure shares more on the technology integrations with HID™ and phone apps, networked management with reporting, audit tracking and complete control of lockers and mentions of the use of smart materials to help minimize the spread of germs.
With smarter locking, what else can these lockers do?
Locker Audit & Occupancy Reporting
Get all the details behind your lockers. Know who is accessing what locker, which lockers are accessed the most and when they are accessed. Having this information could aide in contact tracing.
Access Lockers via WiFi App
Often used as a backup key, in case you lost your badge or fob, the WiFi app can open up your unassigned or assigned locker with just a few buttons on your smartphone.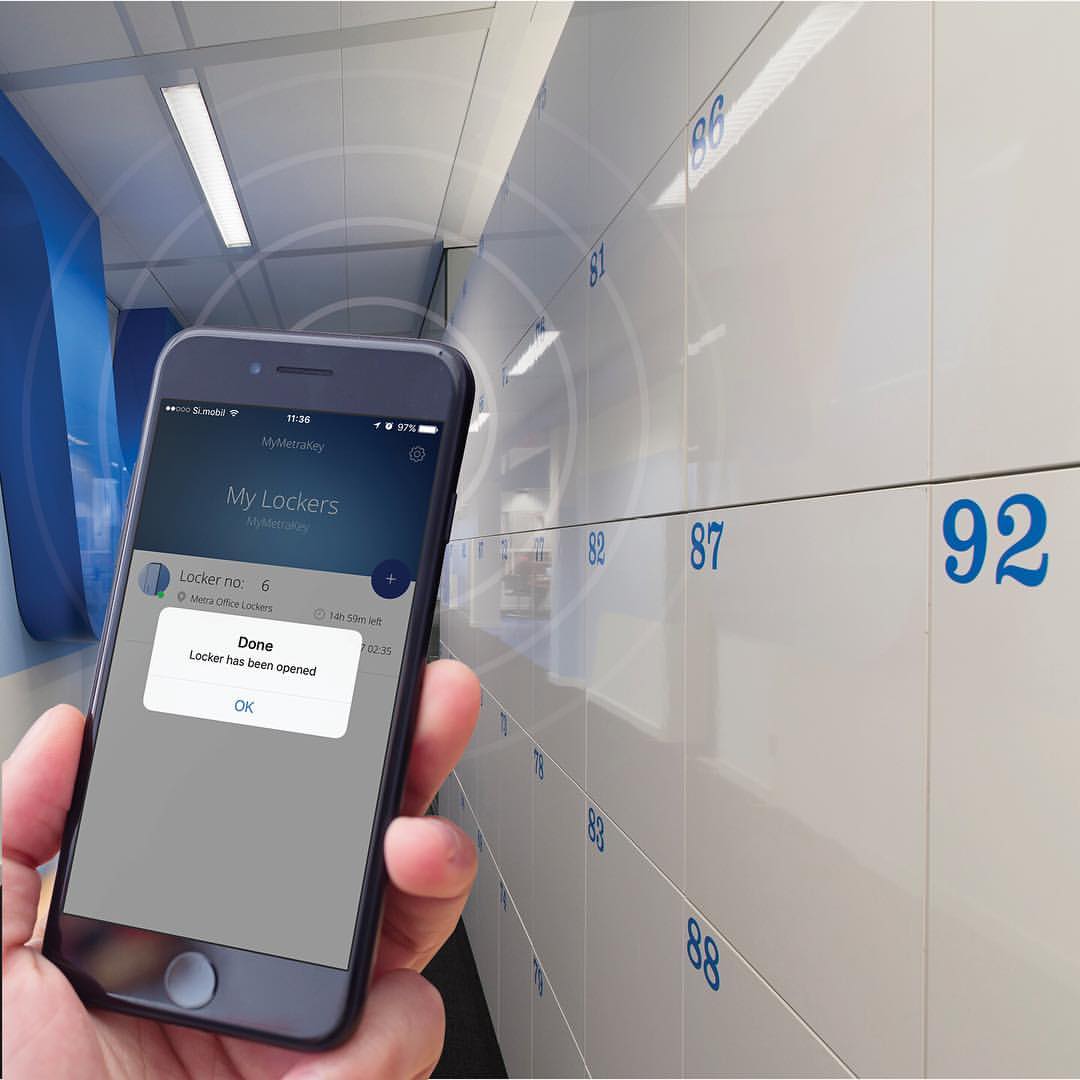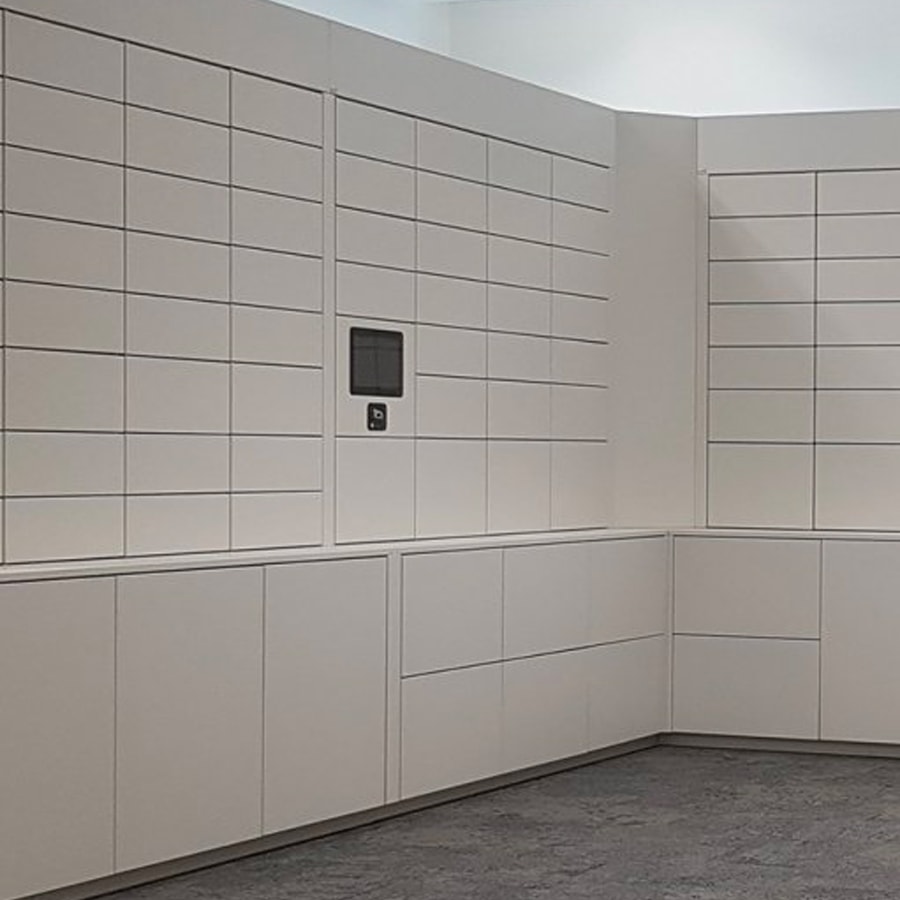 Mixed-Use Within the Same Bank
Have some of your lockers assigned-use for your employees and others unassigned-use for visitors, contractors or temps within the same locker bank.
Lockers can even integrate with your POS system, add additional peripherals for cashless payment to rent lockers for temporary use or integrate into your existing Smart Building App.
Anticipating Workplace Storage Needs After COVID-19
There are many areas to consider in trying to reimagine the workplace post-pandemic. This article will explore some of the potential areas where the work environment will be re-envisioned. Particularly, outlining areas where storage solutions can make an immediate difference in repurposing familiar spaces.
Interested in learning more about our Touch-Less Locker Storage options?