Smart Workplace Lockers: Return To Office
As everyone starts to head back to the office, it is crucial to have an effective strategy in place that provides a safe and efficient workspace.
We know that returning to the office post-pandemic will be completely different from what it used to be. Many companies will turn to hybrid working where employees come into the office only when they need to or have a rotating schedule in order to limit the number of people in the office at a time.
This new norm most likely means employees will not have their own desk or a place to keep their personal belongings. With less desks in the office, it leaves companies with a lot of extra space for redesigning and creating a collaborative workspace for employees.
By incorporating a mix of assigned lockers (for those working solely in the office) and a mix of unassigned or agile lockers that can be reserved via an app, it gives employees the ability to choose what works best for them.
---
Learn More About the Hybrid Workplace — Smart Storage Capabilities
Our smart locker system for personal storage and exchange of goods elevates the experience of smart buildings and smart workplaces.
As we re-enter the workplace, managing visitor lockers is more important now than ever. The main purpose of visitor management is to oversee the visitor experience, and now is to help mitigate the risk of spreading COVID-19.
Workplace smart lockers can help mitigate the shared touch of surfaces and belongings while providing you the data to know your usage and aid in contact tracing. Learn more about the benefits of how touchless lockers can be part of your visitor management strategy.
Learn More About Visitor Management
Clean & Touch-less Lockers
Touch-less smart workplace lockers can play a huge role in showing how much you care for your employees by providing a safe and clean space to temporarily call their own. When your employees use their RFID card, mobile credential or WiFi App on their phone their locker experience can be essentially touchless. By simply presenting their credentials the locker door will pop open allowing them to place their belongings inside the locker. Once items are in the locker, use an elbow to nudge the door shut for a practically touchless experience.
Locks so smart they know when the locker needs cleaning.
No need to worry about using the same locker as someone else before it has been cleaned. The locks can be configured to automatically disable lockers after they have been used. Once the lockers have been cleaned, they will be available for use again.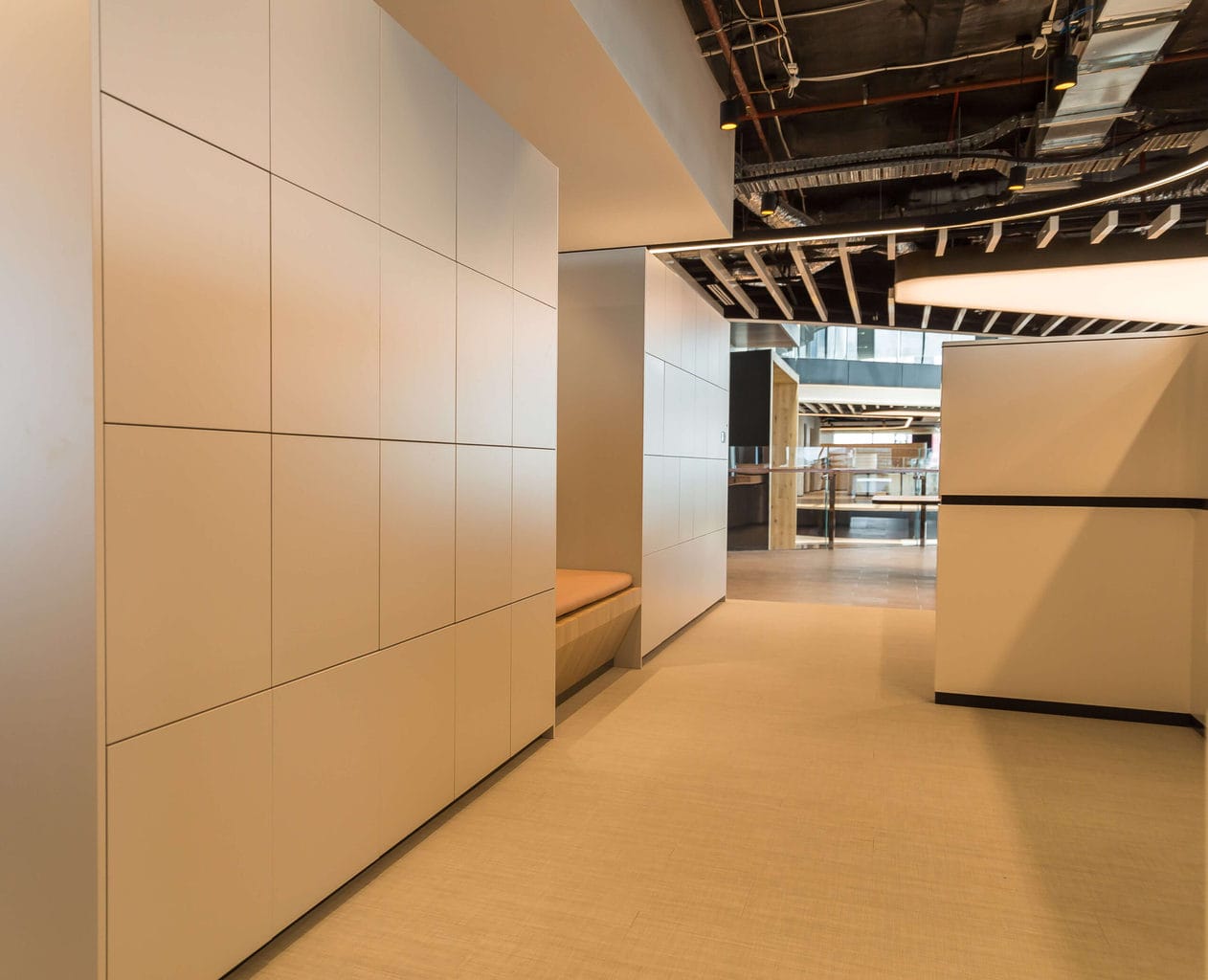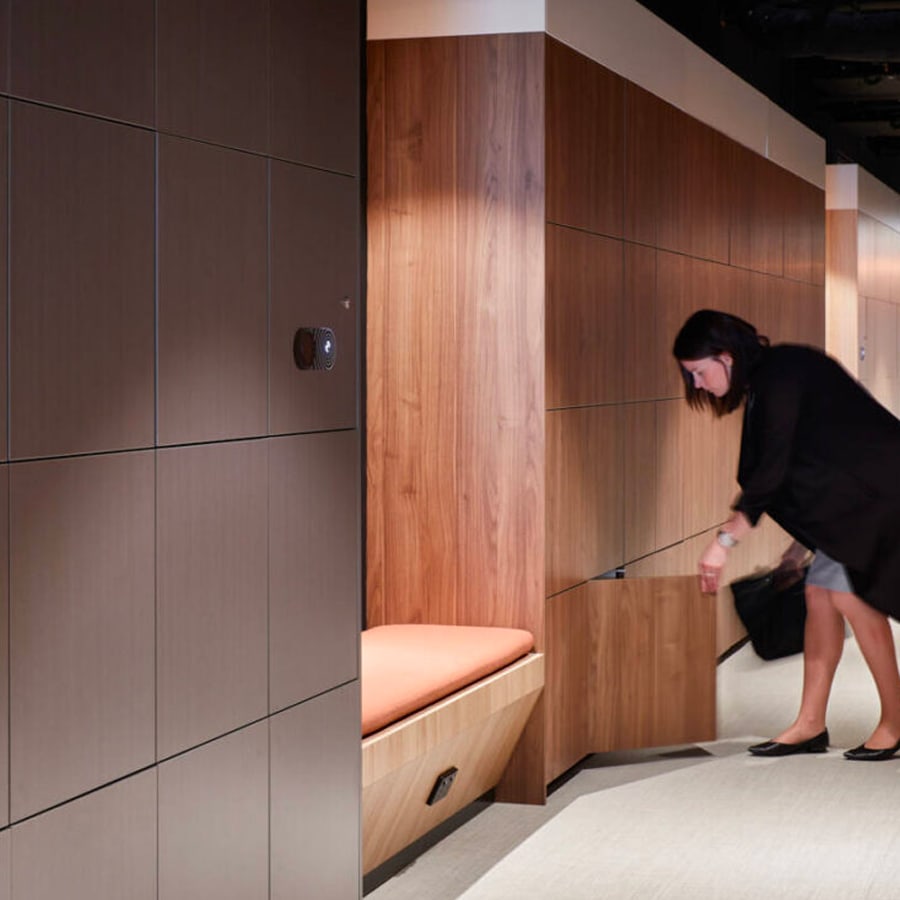 Going hybrid means companies need to be ready for any changes that come their way.
Flexibility & Adaptability
Amidst all of the uncertainty, there are a few things that remain constant and that is the notion of having adaptable and flexible workspaces. The workplace smart locker system can be your solution to adapt and respond to changes just as quickly.
Our networked smart locker system has the ability to change the locks from assigned to unassigned and even add delivery (exchange of goods) capabilities with a simple click of a button in the software. No more worrying about committing to purchasing the right locker configuration before even knowing what works best for your office.
Learn More About Agile Workspaces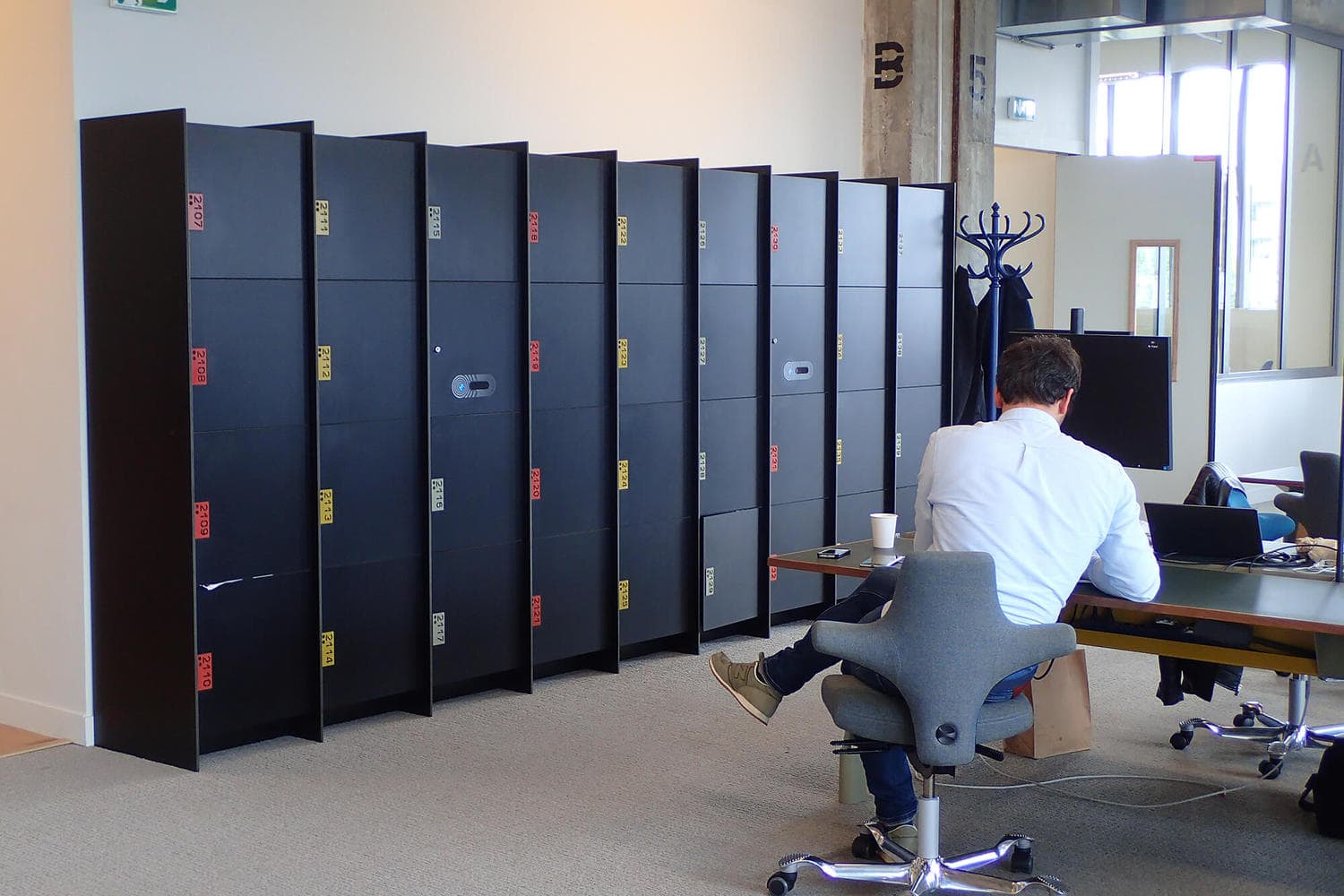 Assigned day-use lockers are perfect for the employees that are regularly coming into the office. They will have their own assigned space to store their personal belongings.
Employees can simply present either their employee credentials or mobile credentials to the reader and their assigned locker will pop open. They can confidently use the locker knowing they are the only ones using it on a day-to-day basis.
Reserve a desk through your smart phone app as well as select any locker of your choosing. No need to worry about having the same size locker everyday - with unassigned lockers choose the locker that works best for you.
The idea of hybrid working means employees will be in and out of the office. Give them the comfort in knowing that whenever they choose to go in to work they will have their own space to store their belongings.
Take a look at our touch-less workplace lockers and check out a demo video of our assigned and unassigned lockers for workplace applications.
---
It is practically impossible to return to work after the pandemic without any digital workplace technologies. A smart workspace leverages the growth of digitizing physical objects in order to improve work efficiency and discover new ways to work.
Our smart locker system for personal storage and exchange of goods fits perfectly with the smart building and smart workplace movement. You cannot modify and work on frictionless experiences with rigid and unforgiving equipment. Your company will be left behind when it comes to adapting and changing quickly if you do not implement smart technology into your workspace.
Smart lockers give you the confidence to know that it is a practically touchless experience. Access, reserve and extend your locker by using your Wifi App, Bluetooth, NFC, your wearable smartwatch or even integrate your own app.
As employees start to return to work, provide them with quality technology that is right at their fingertips. The option to use our MyMetraKey App, HID Mobile Access (if you have mobile credentials), or even integrating a third-party app gives you the ability to choose what works best for your company. Additionally, leverage our APIs to integrate your smart building app, smart workplace app or develop your own using our technology as a platform.
---
Learn More About Our Return to Work — Smart Workplace Lockers
Take a look at how smart workplace lockers can help transform your office and keep your workspace flexible, adaptable and safe.
Interested in learning more about our Touch-Less Locker Storage options?