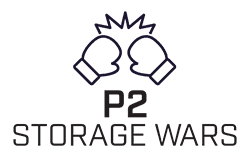 ---
At Patterson Pope, we know better than anyone that stuff exists. All kinds of stuff. Whether it's in your attic or at your place of business, stuff finds a way to get into the nooks and crannies and even grow. Some of it is valuable. Some of it is useful. Some of it can even evoke memories and powerful emotions. And we know that not all stuff is created equal. There's good stuff and bad stuff. Among the very best is modular casework.
Just as not all stuff holds the same import, so is it true of the stuff that stuff gets stored in. Yes, that can refer to aesthetics, but it can also refer to things like strength, adaptability, craftsmanship, flexibility and value. It's in those areas that modular casework stands out. In our world of storage solutions, it's imperative that we keep ourselves abreast of what's out there. Our passion, after all, is providing our customers with the products and overall solutions that deliver on – and even exceed – expectations. Suffice it to say, we take stuff seriously.
In this series of blogs, it's our intention to help you understand options. We're also going to be fairly unabashed about putting our thumbs on the scale, so to speak. We definitely have our opinions about what's better, but you need to understand that these opinions are based on more than 40 years of experience. We want to spare you the time, expense and aggravation of a "trial and error" approach. In this episode, we make the "case" for modular casework.
---
---
It's Particle Board, not Particle Physics
Let's take a look at the first competitor – custom or "built-in" millwork. Traditionally, millwork uses half-inch-thick particle board in its constructions and "finishes" only those edges that are exposed to view. Filler boards are often used on cabinet backs and drawer bottoms, and wooden shims are utilized to even out the bottoms. A six- or eight-foot-long cabinet would need to be crafted as a single unit and then be affixed permanently to whichever wall or alcove in which it would live. Years ago, this was a revolutionary construction development, but times have changed.
Now, to the other corner…modular casework. Though not an ideal analogy, you can think of the distinction between millwork and casework as being similar to the difference between hardware and software on your computer. Millwork would be the hardware; it is what it is. Modular casework, on the other hand, is like software – you can upgrade different parts of the system without having to replace the whole thing.
That flexibility is because modular casework is, ironically, designed with the help of software. Specifically, AutoCAD or Rivit AutoDesk software. Individual pieces of a unit – cabinets, say – can be drawn up in a specified size and then can be cut (using precision CNC technology) so that it perfectly "fits in" within a unique, existing unit. Unlike millwork, modular casework is completely designed and built off-site. When it arrives at its final destination, it fits in perfectly to its assigned space. Upper cabinets are hung on wall-mounted rails, making them that much easier to remove, repair and replace should the need arise.
Simply defined, modular casework refers to either the "aggregate assembled parts" that make up a unit (e.g., furniture or cabinets) or the techniques used in the construction thereof.
Here's a quick refresher – six reasons to consider casework in your next interior design project:
t's factory produced.
It's quickly installed.
It's reconfigurable.
It's repairable.
It's specifiable.
It's depreciable.

 

Modular casework

 

is treated like furniture and depreciates on a seven year schedule (as opposed to millwork, which is classified as permanent construction and requires 39 years to depreciate).
---

---
Building the Case for Modular Casework
Locker rooms. Mail rooms. Libraries. Closets. Organizational units in offices of all types. The fact is locations where modular casework just flat-out works are far-flung. The combination of quality materials, exacting design/cutting/construction standards, and the uniformity of delivery (i.e., your unit is not dependent on the quality or training of the individual installer) all come together to provide a pretty satisfying end product.
And did we mention that modular casework is good to the environment? Yep, it gets better.
Modular casework from Hamilton Casework Solutions is GreenGuard Children and Schools certified, containing 95 percent recycled and recovered post-industrial, pre-consumer material. It also meets and exceeds requirements for LEED-CI and LEED recommendations for schools.
More precision. Improved control. Better installation. Lasting quality. All of that, and a "thumbs up" from Mother Nature herself?
When you consider all of that together, the "case" for modular casework is more than strong; in fact, it almost stands on its own.
No shims need apply.