New Spaces Built with Creativity and Trust
There's a lot to be said for familiarity. It helps all of us feel grounded. It's why we go to the same barber or hair stylist, the same dentist and the same doctor year after year. That familiarity is born out of trust. We know from past interactions that those individuals are not only adept at their professions, but that they can be depended upon to deliver positive experiences.
That same dependability is what's allowed a hospital system in North Carolina to value its working relationship with Patterson Pope over the years. Partnering together on more than a half-dozen installations, the two have come to understand one another and appreciate their respective competencies.
The two worked together again recently to bring a retail pharmacy to an underserved community in the western part of the state. The hospital system worked with Patterson Pope and an architecture firm designing a state-of-the-art pharmacy to be established inside a rustic old house in an upscale community. Ironically, the structure had previously housed another pharmacy that had closed years before.
"A lot of times, a pharmacy client will go with steel shelving, but they didn't want to do that here," said Michael Garrett, the Patterson Pope sales representative on the project. "They wanted everything to have that built-in, wooden look so that it felt somewhat rustic and very homey. There is a loft and even a fireplace there now. It was a unique vision that really came together nicely."
That meant laminate modular casework from Hamilton Casework Solutions. Modular drawers, cabinets, solid surface worktops and even shelving for medication storage, to be exact.
---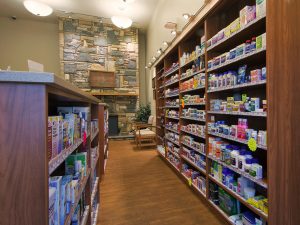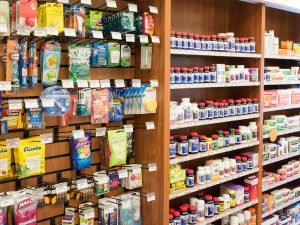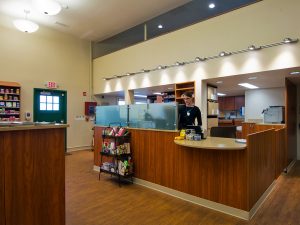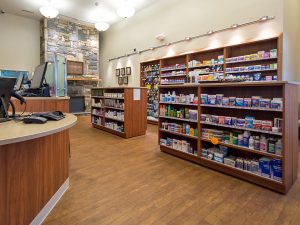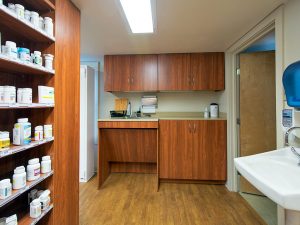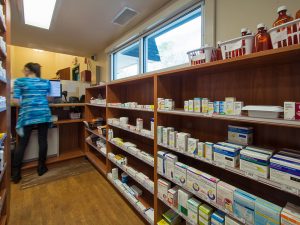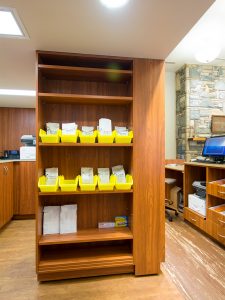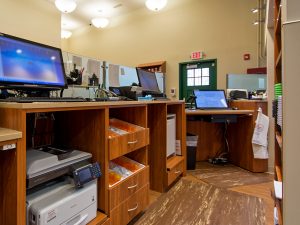 ---
Attention to Detail is the Perfect Prescription
"When I do a project, there's always little nooks and crannies," said the hospital system's director of retail pharmacy. "Patterson Pope always pays attention to the details. They'll come back several times to make adjustments before any installation is made. That commitment helps ensure that everything fits perfectly, which in turn means fewer problems down the line. They understand exactly what I need."
The first floor of the renovated house was only about 1,000 square feet. Planning meant accounting for working around an uneven floor, abundant window sills and a high ceiling. A second-floor loft measuring about 300 square feet ended up housing a sink and overhead storage cabinets.
"As you can tell from the photos, it's a really great looking space," said Garrett. "It's cozy, comfortable and ably serves the community. It was so nice to have everything come together the way it did. Beforehand, people had to drive about 30 minutes to the nearest pharmacy. Now they have the convenience of having a community pharmacy that not only delivers the prescriptions they need, but does so with character. It really echoes the feeling of the area."
Pharmacies, by their very nature, are designed around the work they do. Designs are based around "flow." "The new space looks sharp, professional, and is functional," said the director of retail pharmacy. "Having a functional space that also looks so great is the ideal, and bringing it all together isn't easy. Here, we did that. With Patterson Pope, we were able to achieve that perfect marriage of form and function."
---
---
"Having a functional space that also looks so great is the ideal, and bringing it all together isn't easy. Here, we did that. We were able to achieve that perfect marriage of form and function."
---
Director of Retail Pharmacy
---
Relationships Make the Difference
Patterson Pope's Garrett has worked with the hospital system on several endeavors. He knows how central that ongoing relationship has been to the continued run of success projects. "Having good relationships is a big part of what we do," he said. "We're good at what we do, and we're glad to be able to talk with clients about their needs and devise the right way to give them what they need. It sounds simple, and maybe it is, but it's really a key part of how we do business. Plus, it's just fun."
Clients appreciate commitment and execution. They also appreciate dependability.
"I love that they stand behind their products," added the director. "I know that should anything happen, all I need to do is call Patterson Pope and they'll take care of it. That kind of reliability is really important to me."
His prognosis for others looking to build success?
"There are certain vendors you work with along the way that you would not hesitate to recommend. Patterson Pope is absolutely one of those. For anyone who's putting a pharmacy together, I would absolutely recommend that they talk with Patterson Pope before they finalize what they're going to do with their cabinets, shelves, and casework."
Creativity and trust. It's a good mixture for pharmacies and any project in healthcare
---
For more information on this project, check out our Success Story.
---
Download Success Story