Enjoy convenient storage that helps organize and display product while improving access — Vidir Tire Carousels from Patterson Pope.
Heavy, bulky tires present a unique storage challenge for car dealerships, airports, mass transportation and testing facilities. You need the space-saving convenience of Vidir's Tire Carousel. These convenient, automated tire carousels store up to 352 tires, taking advantage of seldom-used vertical space.
---
Tire Carousels offer many benefits such as:
Increased tire storage space

Enhanced display and organization

Improved access to product

Reduced employee injuries
---
Motorized tire storage carousels can safely store a large number of tires of various sizes to maximize productivity while saving space. Recover up to 70% of wasted space by going vertical with a motorized tire carousel.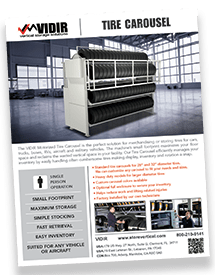 Ready to kick the tires of a few high-density storage solutions? Download our brochure to learn about your options!
---
Keep tires protected and accessible with Tire Storage Carousels from Vidir. Check out this innovative vertical storage system designed for automobile dealerships, mass transit maintenance facilities, vehicle testing stations, and airports.
---
Tire Carousels let you store a large selection of tires onsite in an ergonomic, space-saving fashion. Easily handle cumbersome tires for cars, trucks, buses, RVs, aircraft and military vehicles. These user-friendly carousels also increase worker safety by decreasing the physical demands of accessing product. Optional tire ramps can assist in tire loading and unloading to eliminate manual lifting.
---
Simplify stocking and inventory with faster merchandise retrieval. Standard Vidir Tire Carousels suit 28" to 32" diameter tires. We can customize any carousel to fit your needs. Custom carousel colors and optional full enclosure to further secure inventory are also available.
---
product accessories Links
---