People have been using carts for centuries. At least that is what Wikipedia says. However, people have been using high-quality, durable carts from Patterson Pope for about 40 years.
---
Do you have a lot of items on the move in your office? Would you save money by freeing up the time your personnel spends on carrying items back and forth, loading and unloading? We're guessing the answers are yes.
---
We have many different types of carts for sale. Although our carts are very popular in the medical field, we also serve a variety of industries and have models that will help with mobile operations and small parts storage just about anywhere.
---
We want to help you move in the right direction… on wheels!
---
Carts for Small Parts Storage
---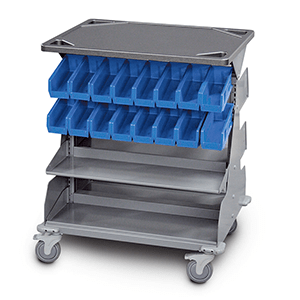 WRX WHEELS SMALL PARTS STORAGE CARTS
The WRX Wheels Transported System was designed to address needs for storing equipment that is not meant to remain stationary. This cart is able to cater to your specific needs, no matter what they are. We designed this small parts storage cart so that you can design it the way you need it.