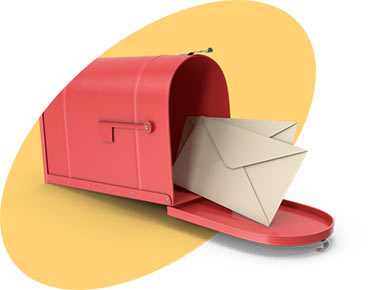 No Office is Exactly the Same, Make it Modular
Every corporate office setting needs to custom fit individual needs. Taking a one-size-fits-all approach isn't going to support efficiency and productivity nor the ability to adjust and adapt — even when it comes to your storage. Corporate and office modular casework is the way to go to easily reconfigure your space around changing storage needs.
What is modular office casework? A great alternative to site-built shelving and cabinetry storage systems, corporate modular casework is quickly installed and also:
Factory produced, which means precision cuts and guaranteed measurements
Reconfigurable and repairable, making it easy to use long-term
Specifiable whereas drawing millwork is a tedious, time-consuming task
An added bonus? Each piece of our Modular Casework Systems honors a seven-year depreciation schedule as well as a limited lifetime warranty.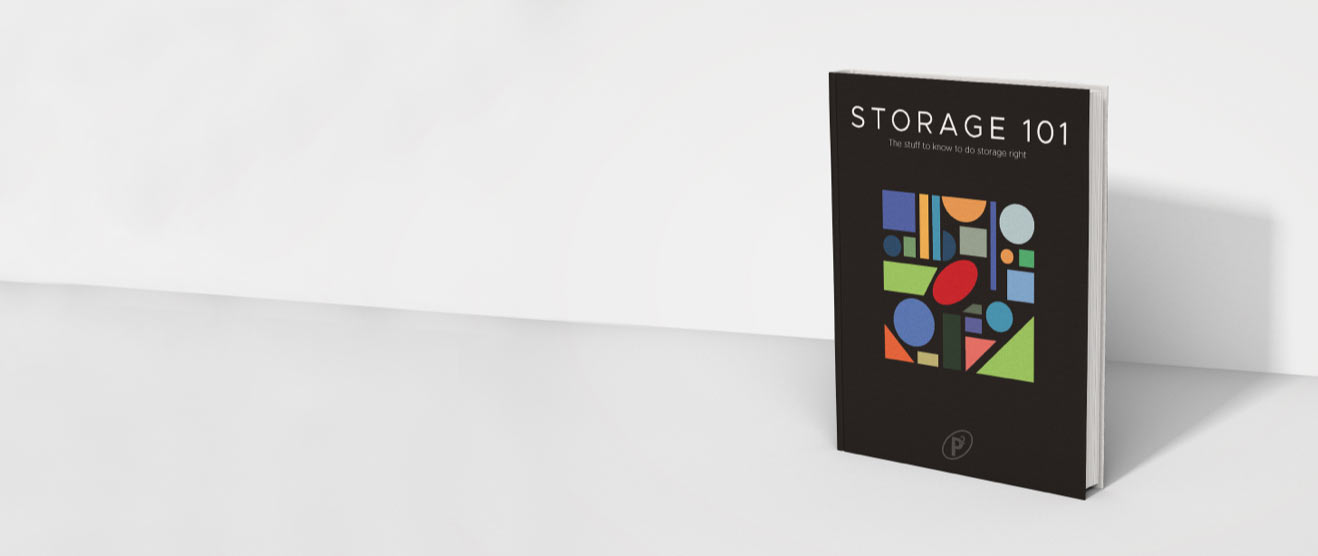 Storage 101 – Get what you need to know to do storage right.
With Storage 101, we take the guesswork out of all the things you need to consider when planning a storage project. From different products and processes to technology influenced solutions, this may be the most definitive summary of its kind available.
---
---
---
Making Use of Corporate Modular Casework
There are many ways to use office modular casework. We've seen customers put in modular casework for office supplies or create community workplace casework areas.
You might incorporate adjustable shelves and organizing modules with laminate cabinet casework for work rooms, break rooms, mail centers or in the primary office environment where you are creating collaborative workspaces.
Incredibly easy to maintain and visually appealing, modular casework is built to last. Find out more about this great solution for keeping items organized and accessible. You can choose to keep supplies and the stuff you're storing always visible with window panels or open shelving. Or secure items and create a sleeker look with cabinet or drawer panels made in a variety of colors, finishes and materials to provide safe, quality and environmentally friendly workspaces. Better still, you can change your mind with the ability to easily move, expand, reconfigure or repurpose any of the individual components you select.
Find out more today about the beauty of modular casework.
---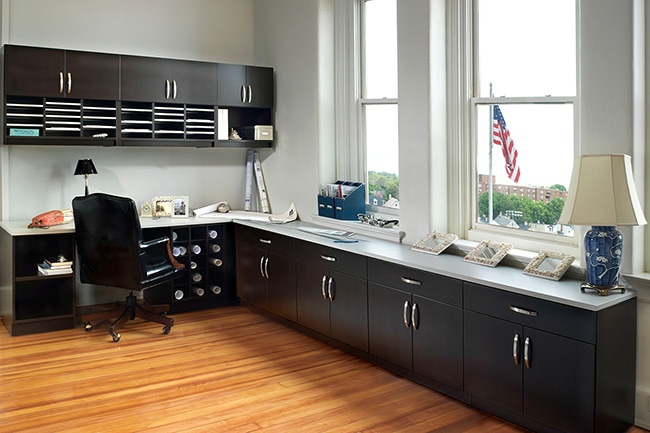 Modular Casework for Office Workspace and Storage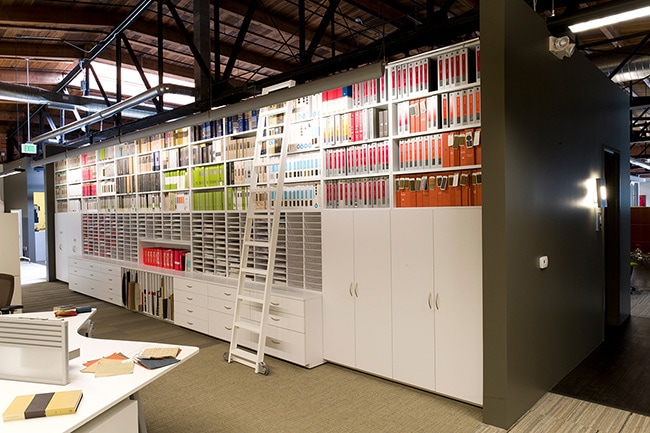 Modular Casework for Organized Architecture Firm Storage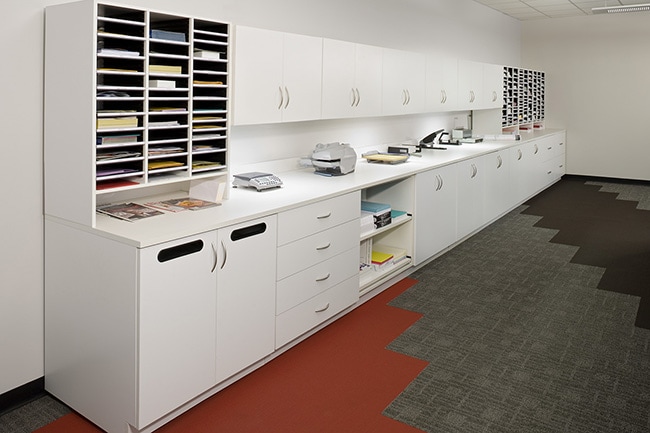 Modular Casework in Corporate Office Work Room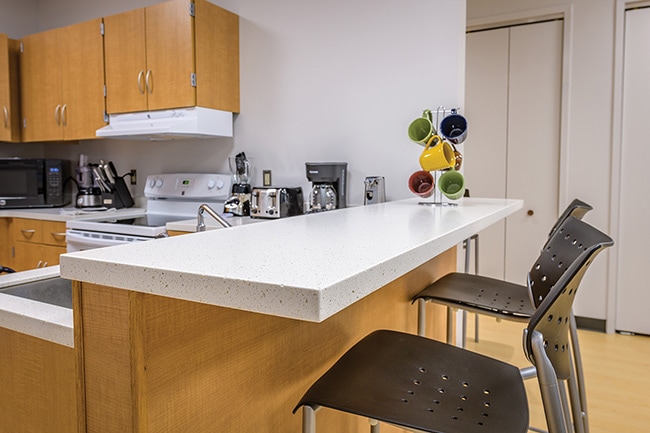 Office Breakroom with Modular Casework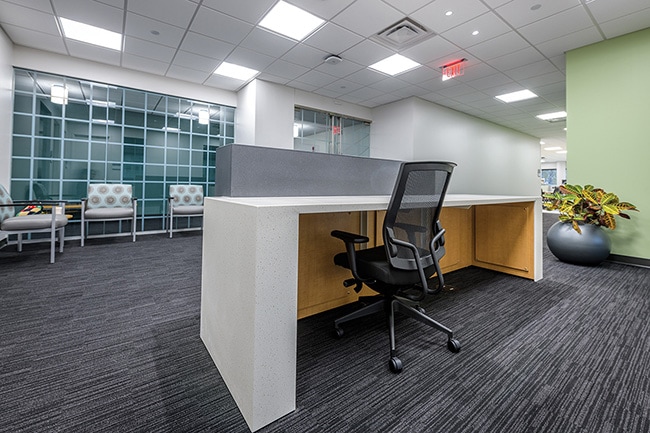 Reception Desk Created with Modular Casework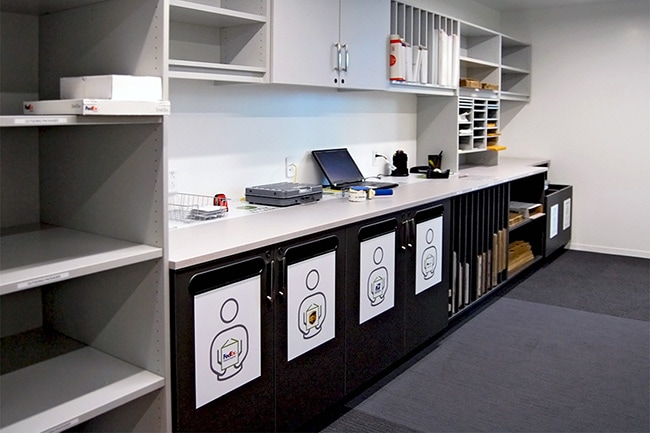 Shelving and Modular Casework in Shipping Department
---