What many people in Charlotte already know is that Patterson Pope is not your normal one-size-fits-all storage company. We won't just drop off a cabinet or a shelf at your front door and leave yelling, "thanks for your business." You deserve more than that from a high density storage company.
We have an extensive line of products that have been designed with specific applications in mind. The varieties of high density storage options we offer are so great that we are able to successfully work with most industries in the Charlotte area.
---
High-Density Shelving
Mobile Shelving
Laminate Cabinets
Stainless Steel Cabinets
Gun Lockers
Evidence Lockers
Weapon Racks
Rotary Files
Modular Casework
Carousels and Lifts
Static Shelving
Modular Walls
Rotary Shelving
---
Contact Us Today for your mobile shelving and high density storage needs in Charlotte by filling out the Information Request Form or by visiting our
Contact Us
page!
---
We have happily helped the following industries with organization, space and high density storage problems in Charlotte: healthcare facilities, school buildings, government offices, public safety buildings, libraries, museums and galleries, athletic facilities, commercial buildings, industrial warehouses and military bases.
---
If space has become an issue in your office or you realize that you're just not as organized as you used to be or if you are having trouble tracking down certain items – call us in Charlotte so that we can find you a high density solution that makes your day-to-day business operation less stressful.
---
---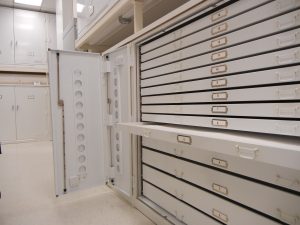 ---
Our cabinet selection includes: Flat Files, Lateral File Cabinets, Gemtrac storage systems for digital media, Modular Drawer Cabinets and Spacesaver Rotary File Cabinets. We also offer Evidence Drying Cabinets and Fireproof Cabinets for extra delicate materials that need to be stored safely.
---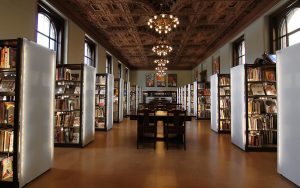 ---
Static shelving
is always in high demand for buildings that have a large amount of stuff to store. Our shelving options include: 4-Post Shelving, Case-Style Shelving, Static High-Bay Shelving, Bin Shelving, Wide-Span Shelving, Rotary and Cantilever Shelving.
---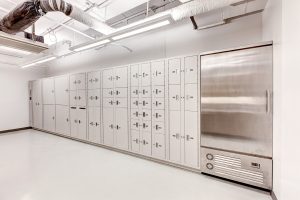 ---
Cabinets and shelving only scratch the surface of our extensive product line. At Patterson Pope, we also offer Lockers that are great for uniforms, equipment and evidence. Our Carts are perfect for medical facilities as well as delivering the mail. In addition, our line of Modular Casework can be built for any office setting.
---
If you are in the Charlotte area and have been thinking about a high density storage makeover for your office or organization, reach out to our team at Patterson Pope. We will be happy to work with you!
---
Our team of storage experts proudly provides mobile shelving and high density storage solutions to the greater Charlotte area, including Davidson, Gastonia, Huntersville, Cornelius, Mooresville, Hickory, Concord, Ballantyne, Fort Mill, Rock Hill, Matthews, and other nearby areas.
---
3001 North Graham Street
Charlotte, NC 28206
(704) 523-4400
---
---
Mailing Address
PO Box 790138
Charlotte, NC 28206