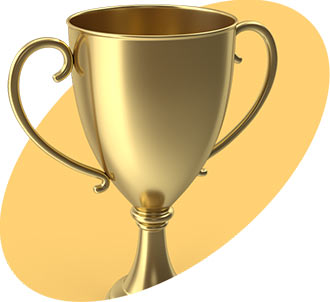 Winning On and Off the Field With Athletic Static Shelving
Athletes and the coaches, trainers and nutritionists who support them are always on the move. Provide athletic static shelving and storage that saves them time and increases their productivity. Keep everything organized and easily accessible with the right storage solution customized to suit your sport and individual participants' needs.
Score points with static shelving solutions for athletics including:
Compact shelving solutions are easy to install and reconfigure as your game changes. Finish your unique metal shelving with durable powder-coat paint to coordinate with your team's colors.
Universally slotted 4-post shelving gives you as much flexibility for storage as you'll see from an Olympian gymnast. Add lockable doors and pull-out shelves for even greater adaptability.
Cantilever shelving gives you a wide range of options and accessories to choose from. You might even add casters to create a mobile cart of your specialized solution.
Athletic departments may be the big dog on campus, but they have lots of little things to store. Modular shelves, bins, pegs, work surfaces and EZ Rails can be rearranged on demand — without tools or fasteners.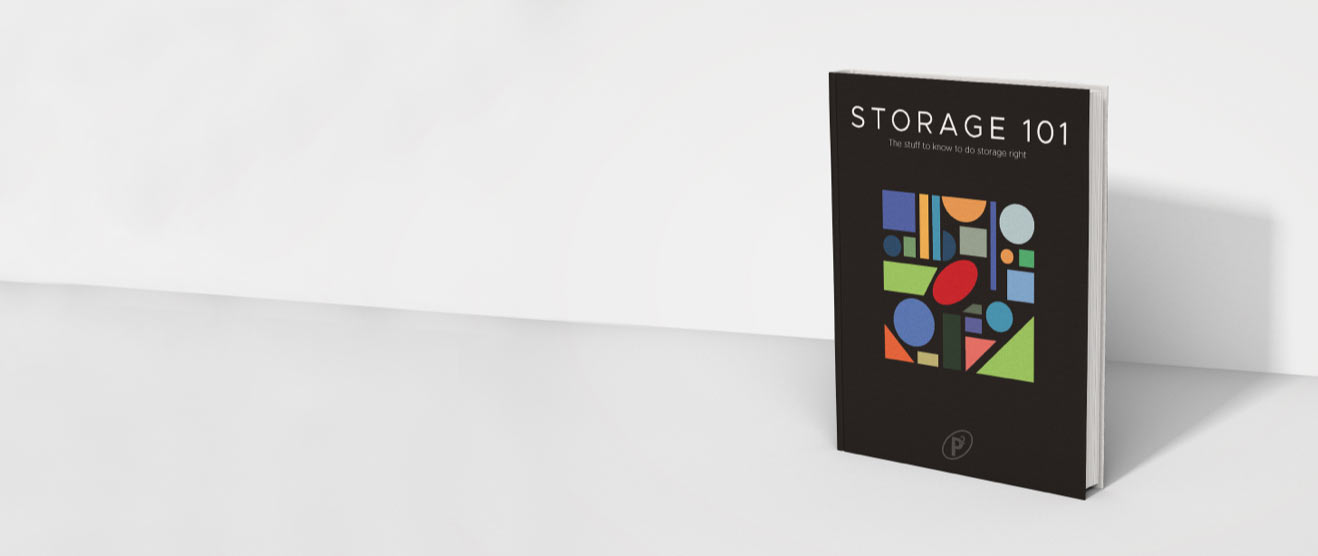 Storage 101 – Get what you need to know to do storage right.
With Storage 101, we take the guesswork out of all the things you need to consider when planning a storage project. From different products and processes to technology influenced solutions, this may be the most definitive summary of its kind available.
---
---
---
Trainer/nutrition storage
Whether it's heart monitors or hydration, pylons or protein bars, trainers and nutritionists need to store a lot of stuff. Customize your shelving solutions to stow it all.
Equipment maintenance
Keep your equipment maintained and your athletes performing at their peak with a storage solution that improves productivity, organization and access. Plan your storage to suit your specific needs.
Equipment storage
Football helmets or hockey sticks, golf clubs or baseball gloves of all different sizes and shapes. Patterson Pope's solutions fit all your team needs in a streamlined way.
Staff workstations
Give the staff the same love you show athletes with ergonomic and efficient athletic storage. Make it simple for your people to find what they need when they want it.
Uniform storage
We all know cheerleaders and the players wear different uniforms. Then there's the variations across sports. All kinds of kit can be organized and accessible with our athletic storage.
Laundry
Simplify the job of getting all those towels and team uniforms ready for the next game with a storage solution that improves access and efficiency.
---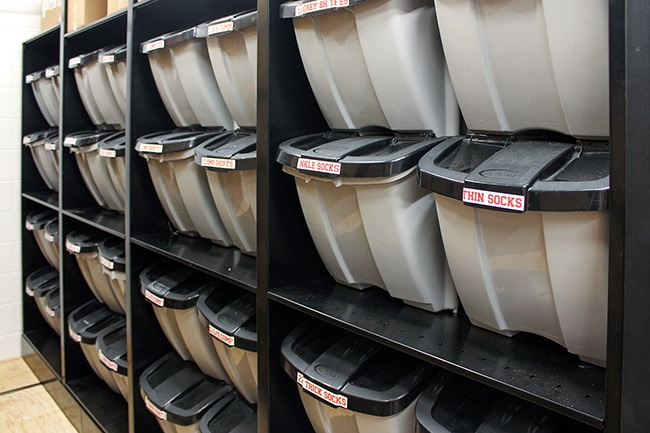 Tote storage for athletic equipment on 4-Post shelving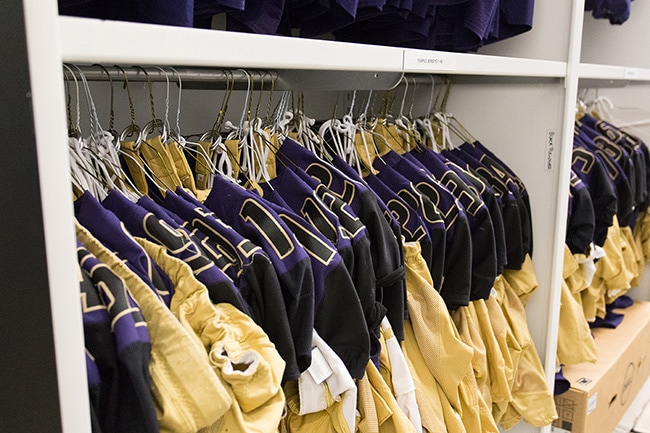 Football Jerseys Stored on Shelving with Hanging Rods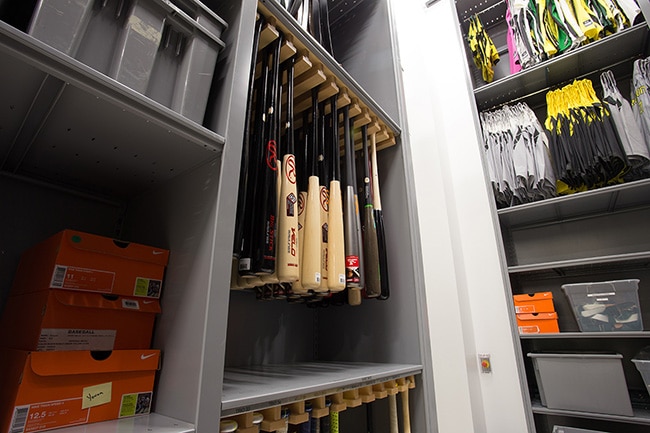 Baseball Gear Stored on Static Shelving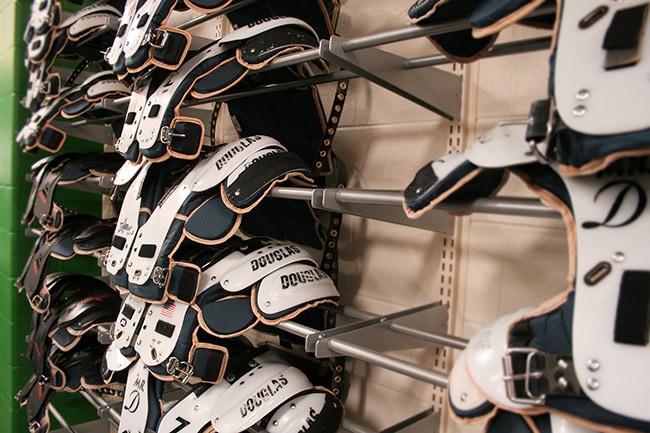 Cantilever Shelving Storing Shoulder Pads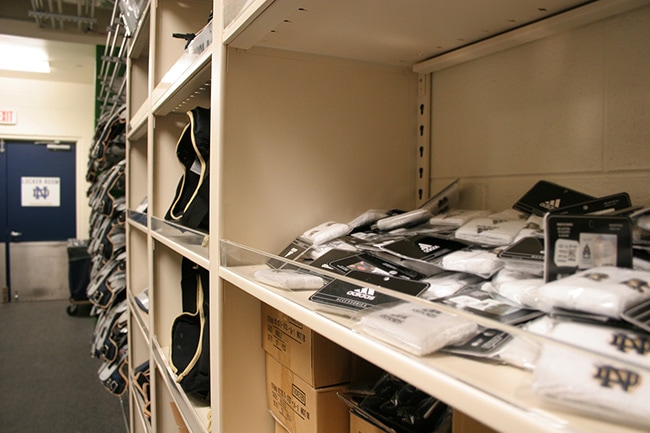 Shelving for Football Uniforms and Gear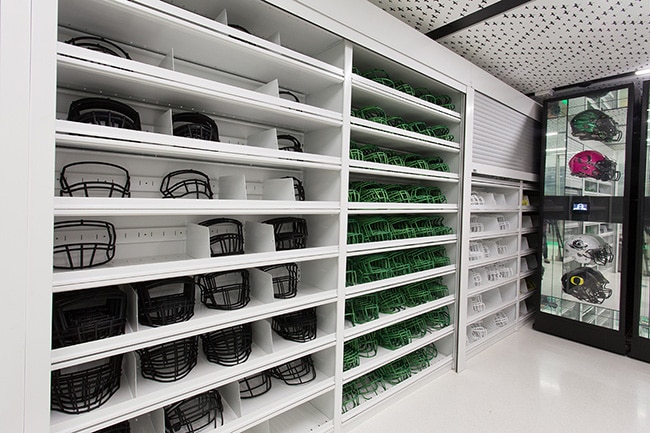 Static Shelving in Football Equipment Room
---