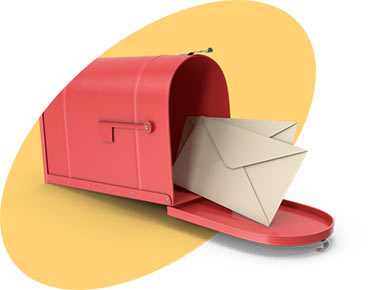 Mobile Shelving for Files from All Work Environments
Your business may be digital or going in that direction, but you probably can't yet get rid of all those important files and documents. That doesn't mean you want them taking up so much floor space. Mobile storage for files can help by offering streamlined access, safety and accuracy – and save lots of space!
We've seen businesses with file storage everywhere — in dedicated file rooms, along corridors and wall perimeters and throughout the individual work spaces. That's a lot of places to quickly locate the files you seek!
A mobile storage system customized to your filing needs saves space and boosts efficiency. With mobile shelving for files, you can minimize the footprint and gain room for more collaborative workspaces, conference rooms or even extra storage.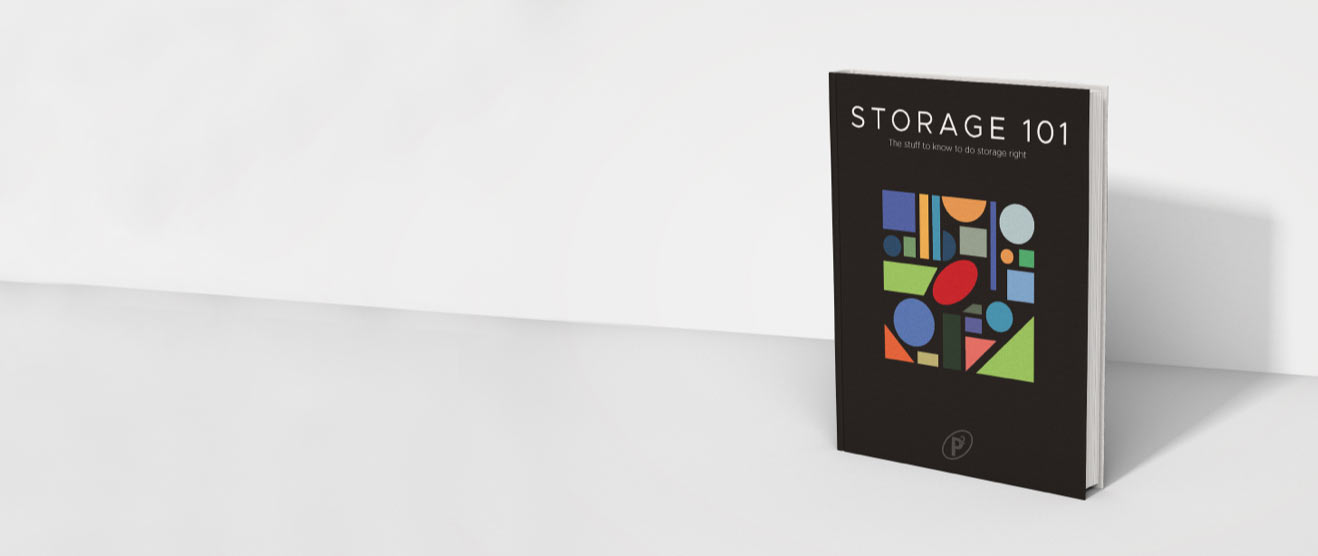 Storage 101 – Get what you need to know to do storage right.
With Storage 101, we take the guesswork out of all the things you need to consider when planning a storage project. From different products and processes to technology influenced solutions, this may be the most definitive summary of its kind available.
---
---
---
Creating a movable aisle with a mobile shelving system helps tackle any space constraints. Meanwhile, you can select from a wide range of options to suit your needs including:
Mobile storage for loose files
Boxed files stored on mobile shelving
Customized shelf sizes for proprietary file types
Eclipse powered mobile storage for files comes in a wide range of available colors, finishes and end-panel materials. You can also add security and safety features to:
Prevent unauthorized access to select aisles or the entire system
Automatically, instantly stop systems with people or objects in aisles
Let you open, stop or reset the system from a distance
Ensure system stability with anti-tip devices
Link system protections to building fire protection and security systems
---
Shelving for Files Made Easy
Almost any type of material – regardless of its size, weight or shape – can be stored using mobile storage for files. Learn more today!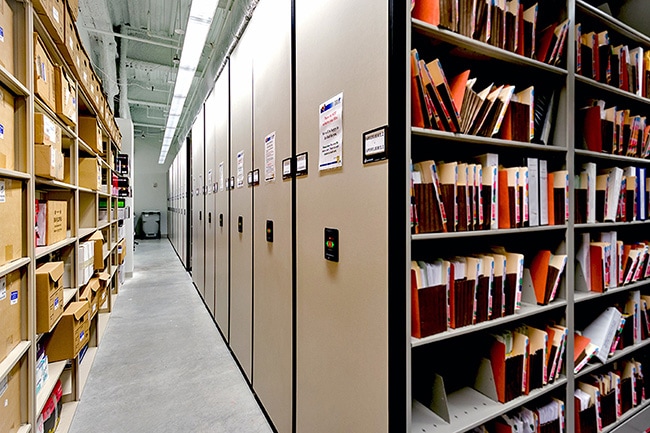 Powered Mobile Shelving Storing Files.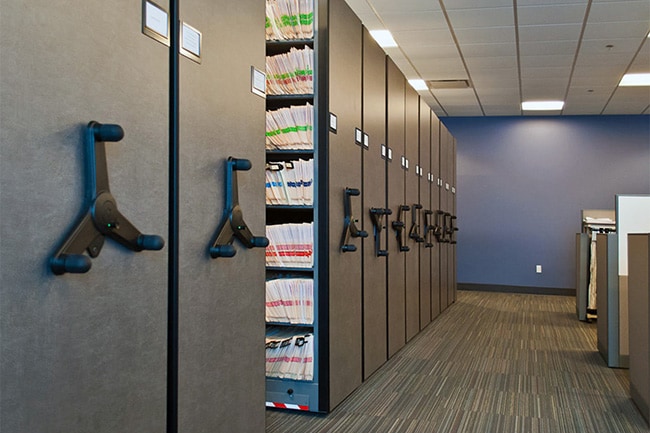 Mechanical-Assist Mobile Shelving Storing Files.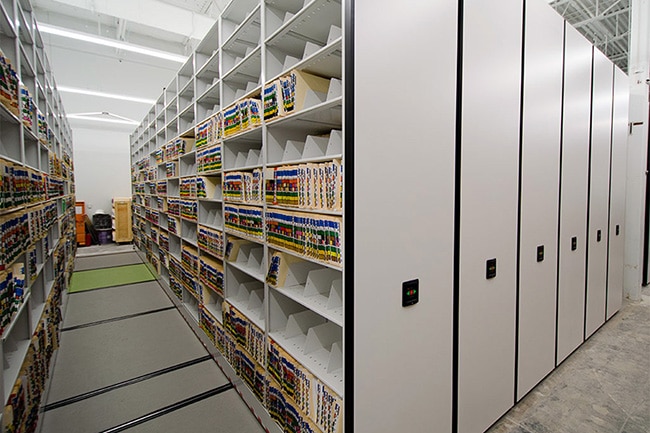 Electrical Powered Mobile Shelving for Color-Coded Files.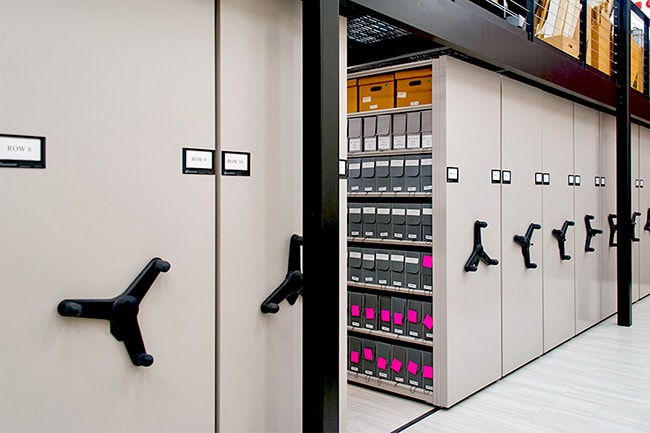 Compact Storage for Archived Documents and Files.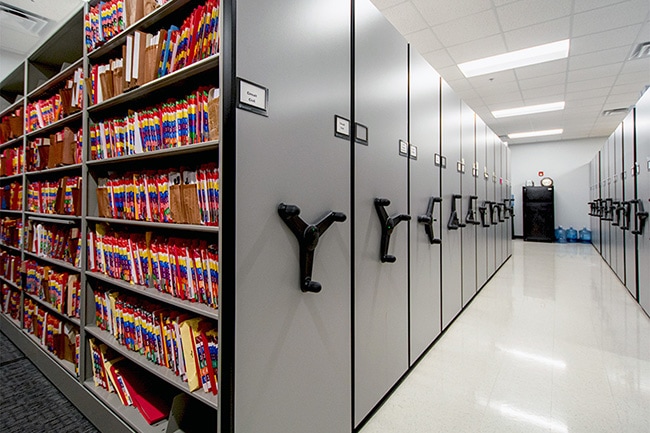 Color-Coded Files on Mobile Shelving.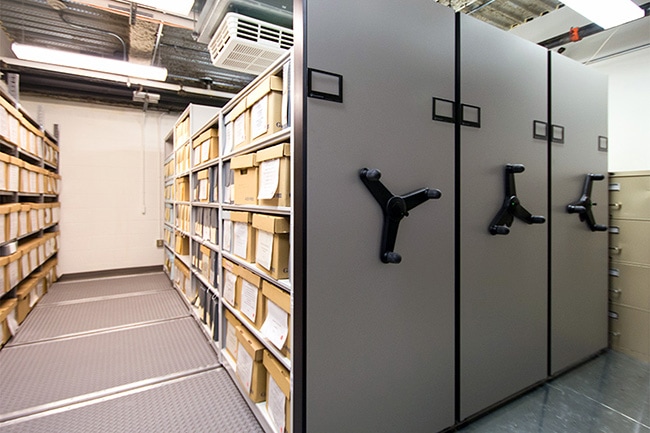 Archive Boxes Stored on Mechanical-Assist Mobile Shelving.
---