Today's beer market is anything but static. There are literally thousands of different brews, and behind them all are breweries that are passionate about creating great new flavors. One of the challenges that this excitement creates is configuring warehouses to best accommodate the growing number of kegs. The solution? ActivRAC® Mobile Racking, from Spacesaver, provides warehouses with more room for beer storage, opens up more floor space and ensures the continued safety of its workforce.
---
At the end of 2013, there were 2,722 brewing facilities in the U.S., a number not seen in the previous 140 years! The typical beer storage facility at the time had 196 SKUs. So, close to 200 SKUs reflects a pretty good variety, right? Well, that was the old days.
Today, there are nearly 2,400 craft breweries operating in the United States alone. And those SKUs at your average beer distribution warehouse? More than 700! There are beers for everyone, boasting flavors as diverse as blueberry, honey, chocolate, peanut butter and even lavender. The growth has been, in a word, exponential.
The average beer distribution warehouse costs $200 per square foot. Couple that statistic with the fact that it's not always easy to either expand an existing facility or find new real estate, and America's beer distributors suddenly have a bit of a challenge storing all that beer – even for short periods of time. In many beer storage facilities, these excess kegs are kept in front of existing pallet racks. As a result, workers (who handle an average of 78 pallets during an eight-hour shift) are forced to move some kegs to get to others. This increased labor leads to increased machinery usage, which leads to increased operational costs.
---
---
A Smart, Sudsy Storage Solution
ActivRAC® Mobile Racking, from Spacesaver, allows warehouses to store more beer, save floorspace, and ensure the continued safety of its workforce. That's what we call a win-win-win situation.
In many facilities, the SKUs/pallets that move most frequently have traditionally been kept on the outside walls. Kegs that stay in storage a bit longer have been kept in the middle. With the increased amount of product, though, that delineation is becoming more and more blurred. Pallets are stored wherever there's room for them. This evolution is born out of necessity and is both unsightly and unsafe.
While it makes sense financially and operationally to focus on the top 20 percent of the fastest selling items in your warehouse or distribution center, you don't want to ignore the other 80 percent. These days, that 80 percent could include the ever-increasing new varieties of craft beer we're talking about.
The ActivRAC® carriage and rail mobile systems move shelving side to side, providing easy access to slower-moving inventory. By eliminating aisles, ActivRAC® gives you as much as 50 percent more floor space. By custom-designing exactly where the system will go, how high you want it to be, and whether you'll access product with forklift or standard lift, you're able to reimagine and revitalize your existing beer storage footprint.
Engineered to withstand temperatures as low as -4° Fahrenheit, ActivRAC® is the perfect solution for today's beer storage space concerns. And for environments kept at temperatures colder than -4° F, there's a stainless steel option.
---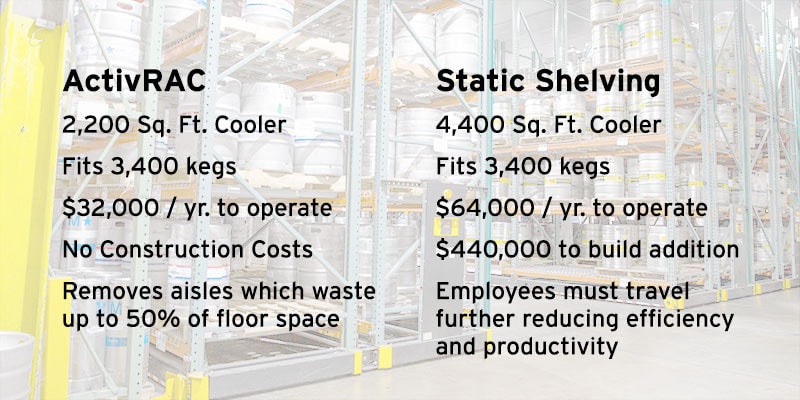 ---
Although craft beer still only accounts for about seven percent of the U.S. beer market, craft breweries account for 98 percent of the breweries. Staggering! And there are more varieties coming every day. Heavy-duty ActiveRAC systems can support up to 16,000 pounds – critical when considering the weight of today's 160-pound kegs.
It's been said that the only constant is change; that adage is certainly true in business. As the amount of craft beers continues to grow, so too must warehouse operations managers grow their own thinking and resilience skills. Having the right tools for the job always makes that task easier. Making sure today's beer-storage solutions are both achievable and accessible is critical to continued success. And where there's success, there are smiles.
Talk about high spirits.