The TV show "Sesame Street" has been instrumental in helping kids grow and learn. I myself credit it with teaching me that a well-ordered city has a fireman, a grocer, a teacher and a hardware salesman. On the show, these were more than job descriptions; they were personality descriptions, as well. Everyone had a role to play, and it was the interaction of all of those people – each contributing something unique – that made the community work.
At Patterson Pope, our interest in and expertise with storage is our unique contribution. So when the Franklin, TN Police Department came to us with an opportunity to outfit their new headquarters with a whole host of storage solutions, well, we don't mind telling you we were more than a little excited. These were professionals who did their job masterfully. But that was police work. The architect and general contractor with whom they were working were professionals, but they were not storage experts. To ensure a job well done, collaboration was the key.
---
A Fresh Opportunity for Police Department Storage
We knew from chatting with the Franklin Police sergeant that the department had multiple areas that needed storage – from evidence areas to locker rooms to records and even weapons storage. Ours was a blank slate, and it was exciting. After a number of discussions with the team at Franklin PD and the architects, site visits and more than a little space planning from our inside pros, we arrived at a design that worked for all involved.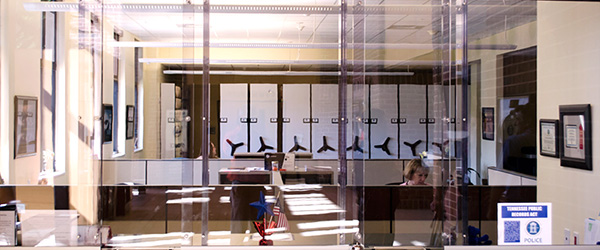 As is the case with every job, we had at our disposal only the finest storage products. Being able to talk with the client, review the plans and see for ourselves what the new headquarters would look like, we were able to imagine – and later plan to perfection – what the ideal solutions would be.
High-density Mobile Shelving
Personal Storage Lockers
Weapons Racks
Mechanical Assist Mobile Systems
It's no accident that Patterson Pope partners with the vendors it does. Being storage nerds, we know who's good, and we know what works. To learn more about what we came up with, see the success story.
---
Download Success Story
---
The job for the Franklin Police Department covered nearly 6,300 square feet of space over three floors. We outfitted locker rooms, evidence storage, a gun and drug room, and a records room. The City of Franklin Police Department is now CLEA (Certified Law Enforcement Analyst Program)-certified and serves as one of their flagship agencies. Today, they have a solution that maximizes their space and makes life easier for the officers and staff.
Said Sgt. David Prather, "Our facility is now recognized as a model police headquarters, and Patterson Pope had a lot to do with that. We never realized how important the storage components would be and what a difference a good system makes."
Over the years, we've done hundreds of installs, many of those in the public safety arena, across much of the East Coast. It is no exaggeration to say that every successful job – every positive response – is something for which we strive.
---
According to Policecodes.org, every law enforcement professional vows to "recognize the badge … as a symbol of public faith, and … accept it as a public trust to be held as long as I am true to the ethics of the police service. I will constantly strive to achieve these objectives and ideals, dedicating myself … to my career of choice."
Who wouldn't love that in their neighborhood? Our ability to provide police department storage solutions helps us feel like kindred spirits. We are both dedicated to doing what we do best in the service of our communities.
The project we did for the Franklin Police Department is a wonderful example of the ways in which different people, with different skills, can come together to execute a winning solution. Sgt. Prather and his staff know the law; at Patterson Pope, we know order!
I sense echoes of "Sesame Street," don't you? Minus any Muppets, of course. Muppets are kinda creepy.