When I was little, the only thing I knew about space travel was what I gleaned from watching shows like "Space: 1999," "Lost in Space," and "Star Trek." At the movies, there was "Close Encounters of the Third Kind" and, of course, the original "Star Wars." By 1978 I had determined that I wanted to be an astronaut. Alas, the soon-thereafter-to-be-discovered reality that I both a) had an incredibly weak stomach, and was b) afraid of heights, quickly dashed those hopes.
In my early high school years, I thought architecture might be my calling. I enjoyed the idea of designing spaces, and being from Wisconsin held Frank Lloyd Wright in high regard. Then I began to learn just how much math was involved in architecture. My dreams again dissipated.
In college? I was a film major for about six weeks, until the recognition that I didn't care one iota what an "f-stop" was helped steer me towards English. Finally, something stuck.
The point of my little trip down memory lane is not to be self-indulgent. I mean merely to illustrate that each of us has a special talent that, once discovered, in many cases helps direct us in our careers and lives. Each of us has an important role to play. Those contributions matter.
---
Mike Hisman is Patterson Pope's manager of project planning. He's been with the company since 1997, when it was known as J.E. Pope. At the time, Hisman was a student studying mechanical engineering and architecture. Once he finished school, he joined the company full time.
"CAD was a newer program at the time, and I was familiar with it," said Hisman. "The company wanted to get someone to actually draw the stuff instead of having the salespeople sketch things or have to wait for the manufacturer to draw it. It was a good fit."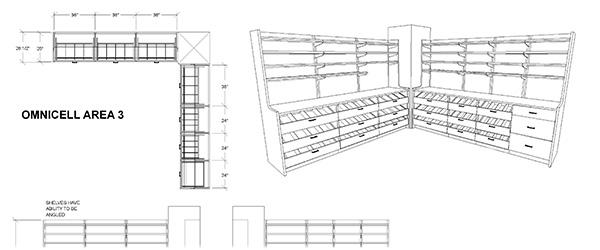 Hisman's first position with the company was as CAD operator. That evolved into project planner and IT guy, before he finally settling into the position he holds today, where he oversees a dozen other planners. The team is comprised of incredibly talented people – some of them from backgrounds similar to Hisman's, some with interior design experience. The mixture encourages different perspectives be shared to ensure a job well done.
"The training for each of those kinds of jobs is different," he says. "I don't have to teach the mechanical folks anything about space utilization, and I don't have to teach the design people anything about making a space look really good. Finding the balance is fun and rewarding. They work really well together. My team does a really good job of communicating internally."
---
Growing Great Relationships is Key
The process begins when a salesperson brings a client's idea or storage challenge to the attention of the planning team. From there, the planners draw the space and price the approximate cost of the job. Without question, developing a great relationship with one's salesperson is a key factor in ensuring the success of any project. That's a detail that, while inherently obvious, grew even clearer to Hisman as the years went by. He prided himself, he says, on being able to pair the right planner with the right salesperson.
"Having great work chemistry is hugely beneficial to the process," he says. "A lot of it is just a matter of familiarity. We try to keep the same people teamed together for long periods, to help that relationship grow. That connection is very valuable."
Experiences bears out that a project can run very smoothly when sales works in concert with the planners to effectively communicate the needs of the client. Effective, efficient communication – while important in any business – is especially important at Patterson Pope. Time is money – literally.
"A lot of times, architects and designers come to us towards the end of a larger project, so we will occasionally have some tighter deadlines," says Hisman. "I think that's just part of the nature of what we do. Storage is a vital part of any project, but it's not something that a lot of people put a lot of thought into. Of course, we do. We love it."
---
Patterson Pope planners take pride in their work. They're creative, and are keen to show that in their work. Most of the time, they will provide clients with multiple designs from which clients decide upon which one they want to use. Alas, those choices don't always match the personal preferences of the planners. Such is the subjective nature of design.
"One of the best things about this job is when you're able to really surprise a client with an innovative, cool design," added Hisman. "We use Configura software, which lets us do all kinds of neat stuff. We can do 3D renderings where we add colors to the walls, different kinds of floor treatments, and really show them in detail what their space will look like. Helping them see the potential – and seeing them really get it – is rewarding."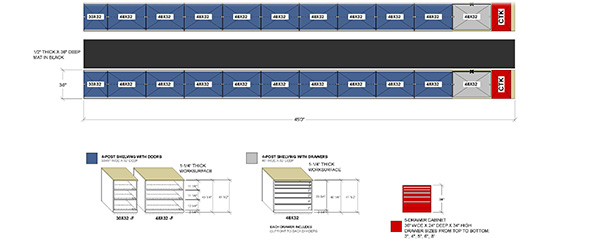 When planning for storage is given adequate attention, the results can be stunning. "I think a lot of people – even some architects and designers – don't really think about what a storage space can be," said Hisman. "That's why Patterson Pope's expertise is so valuable. Storage can be beautiful. It can be the centerpiece of a room."
Like so many other worthy pursuits, it's about imagination and inspiration.
Clients, architects, designers, project planners and sales. Imagined as a pentagon (with a small "p") with these individual roles at the five points, you can imagine the importance of the back-and-forth nature of their working relationship. Every project is an exchange of expertise, with open, honest communication, professionalism and respect yielding exemplary results.
If you have any questions you'd like to ask Mike or a member of his team, let us know!