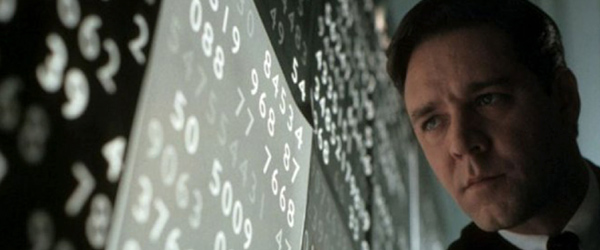 Did you see the 2001 movie, "A Beautiful Mind"? In the film, Russell Crowe plays a brilliant but troubled mathematician. He sees mathematical equations in everything – in the way the wind blows, in the angle of a building, or in the measurement between steps taken on a sidewalk. In the movie, the audience sees these things with him. As someone with "math on the mind," he sees its workings everywhere.
---
You've no doubt heard the term "Big Data." It refers, quite simply, to the information that exists – everywhere. It's in everything we do, and it is in every device we use. In that way, it's very much like Russell Crowe's mathematical imaginings in "A Beautiful Mind." Information – data – is everywhere.
Here's another scenario. Think about the last time you bought a vehicle. If you're like most people, the process begins with you making a list of all the models in which you're interested. At this point, it doesn't matter what aroused your interest; it is enough to know that your curiosity has been piqued. The next step, once you get serious about making the right decision, is to collect as much research as you can on each of your selected vehicle candidates. You look at pictures. You read auto magazines for reviews. You might even ask people you know and trust for their opinion. In short, you immerse yourself in the right information. You use that information to help you make an informed decision.
As we all recognize, our world is a busy place. Businesses face more competition than ever, and are always looking for ways to gain an advantage. Better products, better customer service, faster innovation, more timely responsiveness and attention to detail matter more than they ever have. In the business world, data – collected from a range of sources – is what is going to allow them to make informed decisions about how they work, what they offer, and in what manner they deliver on their customers' expectations.
Of course, knowing that information is out there is only the first step. The power of big data lies in the ability of IT and Records and Information Management (RIM) professionals to a) discern which information is valuable to their organization, b) determine the best way to capture that information, and c) design the system that best uses that data to fuel their business processes. This is an evolving endeavor. According to Gartner Research, big data will drive $232 billion in spending through 2016.
---
As just one example, Spacesaver is currently working to put big data applications to work for customers. They are exploring new ways to gauge customer experience, customer insights and improve operations by developing internal teams to rethink processes and apply new data analysis to existing systems. The more that's known about what customers want, how they act and what they expect, the more targeted – and successful – future products and services can be.
Suffice it to say, "Big Data" is something to be embraced, not feared. The advent of the Electronic Age has been fast, and the analytic side of things has only recently started to catch up. Innovations in things like crowdsourcing, genetic algorithms, machine learning, neural networks, pattern recognition, predictive modeling, sentiment analysis and visualization are becoming more common. The insights they yield are going to change the way businesses do a variety of things, from staffing to production to marketing.
Big Data is out there, and it's going to make a big difference.